Masters 2018: Tiger Woods says Augusta return is 'crazy'
Last updated on .From the section Golf66
2018 Masters
Venue:
Augusta National
Dates:
5-8 April
Coverage:
Watch highlights of the first two days before live and uninterrupted coverage of the weekend's action on BBC Two and up to four live streams online. Listen on BBC Radio 5 live and BBC Radio 5 live sports extra. Live text commentary, analysis and social media on the BBC Sport website and the sport app.
Full details
Tiger Woods says it is "crazy" he is playing at this year's Masters, never mind being considered a favourite, given he could barely sit through last year's annual champions dinner.
The four-time champion, 42, had back surgery under a year ago but is among an 87-strong field at the 82nd Masters.
"I thought prior to surgery, I'll have a nice comfortable life but I'll never swing a club like I used to," he said.
"But all of a sudden my body and speed and timing are back."
Woods won the last of his Green Jackets in 2005 and the most recent of his 14 major titles came at the US Open in 2008.
Since then, there have been numerous revelations about his personal life and debilitating injuries to deal with.
He was arrested on suspicion of driving under the influence when he was found asleep at the wheel of his car a month after having fusion surgery to repair his back in April 2017.
The American, who had five prescription drugs in his system, later pleaded guilty to reckless driving and will spend a year on probation and undergo a diversion programme.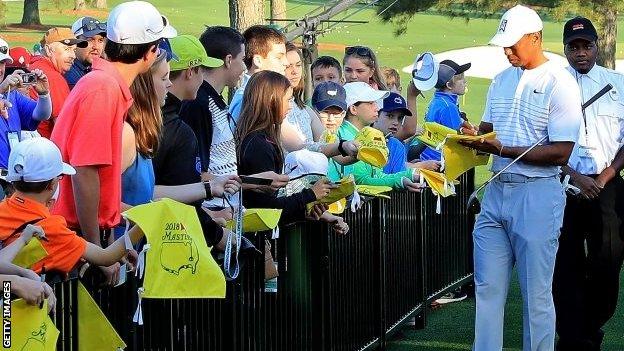 A long road back
Woods is playing in his first major since missing the cut at the US PGA Championship in August 2015.
"For some reason, I don't have any pain," he said. "Yes I'm much tighter and I have to work on strength in different ways but I'm hitting speeds I hit in my prime.
"We have worked on what body parts to get stronger, what body parts need to be more limber, and I feel fantastic. It's just a matter of now going out there and competing and playing and posting numbers.
"The swing numbers are still up and that part is exciting because if I can maintain this I can play for a long time."
Woods, who is chasing Jack Nicklaus' record of 18 major victories, accepted that planned comebacks in 2015 and 2016 were "in hindsight, a pipe dream", adding his "back was fried".
"I tried cortisone shots, epidurals, anything to take away the pain, so I might be able to withstand a week. Nothing worked. My disc was gone."
"It's been a tough road. The pain of just sitting there, the amount of times I've fallen because my leg didn't work or had to lay on the ground. Those were dark times.
"The reason I said I'm a walking miracle is because I don't know anyone that's had a lower back fusion that can swing the club as fast as I can. Some of the guys have said: 'I need to fuse my back so I can hit it harder!'"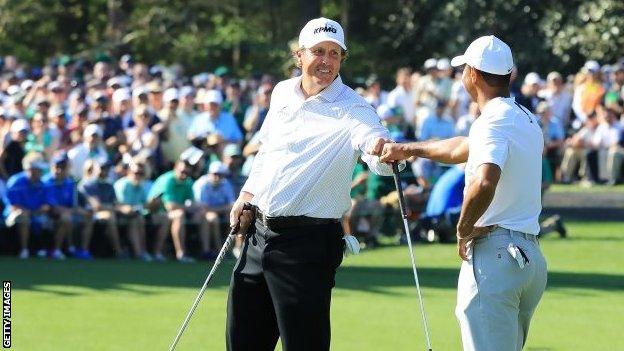 An open Masters
When asked if, as suggested by six-time major winner Sir Nick Faldo earlier this week, a victory for Woods would be the "greatest comeback in sport", he responded: "Well, I have four rounds to play, so let's just kind of slow down.
"I've had anticipation like this prior. If you remember the build up from the PGA of 2000 to the Masters of 2001, nine months of building up what that tournament would mean. And it's the same thing.
"I've got to go play and then let the chips fall where they may, and hopefully I end up on top."
However, Woods is acutely aware that while much of the focus will be on him this week, there are numerous contenders for the title.
World number one Dustin Johnson, two-time Masters champion Bubba Watson, Jason Day, Justin Thomas, Phil Mickelson, a three-time Augusta winner, and Rory McIlroy have all tasted victory this season, while 2015 winner Jordan Spieth was third in the Houston Open on Sunday.
"I don't think there's one clear-cut favourite," Woods said. "I think there's so many guys playing well at the same time. I think that's what is making this year's Masters so exciting. There are guys from the early 20s to Phil at 47 that have all played well.
"We know we're going to have to play well in order to win, and it's going to be quite a challenge. It's going to be fun."
Analysis - 'He is a genuine contender'
BBC golf correspondent Iain Carter
It is an extraordinary thought that he is back considering that last year he was here at the champions dinner and he was only able to sit with immense pain with his back burning because of the nerve damage.
He is a genuine contender. He has come back stronger, fitter and better than anyone expected, including himself. He has definitely tightened up but the swing speed is there.
He partnered with Phil Mickelson in a practice round and that shows he's in a different place mentally. He's allowing a friendship with his greatest career rival to flourish.
I saw him eagle the 15th and he looked so relaxed and at ease. I think he has a very good chance of winning a fifth Masters this week.