European Golf Team Championships: Carly Booth backs more mixed events
Last updated on .From the section Golf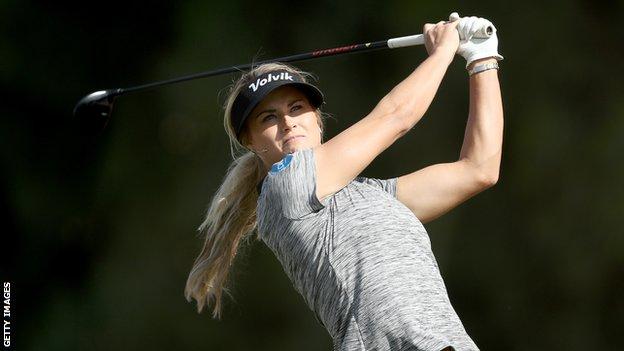 Carly Booth hopes to see more mixed golf events after this year's European Golf Team Championships.
The tournament, where male and female professionals will compete for equal prize money, will form part of the Glasgow 2018 European Championships.
"I'd hope to see more of it," Booth, 25, told BBC Scotland.
"It started off with the event we've got coming up in April in Morocco, which the men play the same week as the women on two different courses. Last year we had the same players' lounge and you just feel kind of as one, which is great.
"I grew up playing with boys - my older brother and then all the junior comps, I was always the only girl. I loved playing with the boys and I think it's a great way to kind of show the women's game.
"The men have it right. We've been struggling with our tour and I think it's a great way to help boost us and get a little bit of support from them."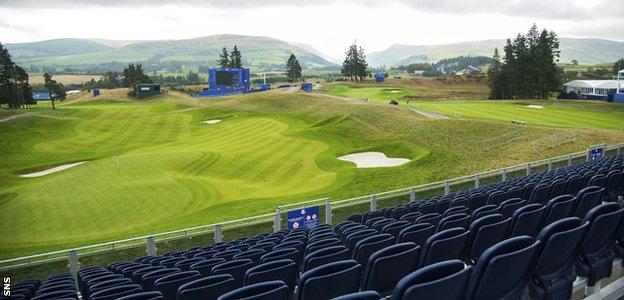 In August at Gleneagles, players will represent their countries with 16 teams of two players competing in the men's and women's team match play events before combining for an 18-hole foursomes stroke play mixed team round.
Qualification will be based on ranking points earned from tournaments finishing between 10 July 2017 and 9 July 2018 with a maximum of three teams representing any one nation in each event.
"It's going to be an incredible event," said Booth, from Comrie in Perthshire. "It's so great that we've brought the women and the men together here on my home course. It's a great location in Scotland - easy access from everywhere so I think the crowds will be massive.
"We've got the Solheim Cup here in [September] 2019 so that's a great way to really promote Gleneagles and the women's game all in one go."
Two-time Ladies European Tour winner Booth, 25, hopes she can return to Gleneagles for the Solheim Cup, when compatriot Catriona Matthew will captain the European team against the United States.
"I'd hope my name would be there, that's the plan," said Booth. "I've got a good year-and-a-half to get my finger out and try and make the team.
"It would be a very special week for me to have my first Solheim Cup on my home turf. I was close to making it back in 2013. I was a little bit disappointed in missing out then. I've just got to work hard and keep focused and try and get some good results under my belt and if I don't make it in the rankings, maybe the captain's pick.
"If it comes down to a few of us, I'd hope to think that with having the home advantage, that might be in my favour. Fingers crossed and I think it's going to be a great week here. It's a a perfect venue, that's for sure."
Lawrie, 49, believes the "uniqueness" of the European Golf Team Championships gives it broad appeal.
"It's a different format," the 1999 Open winner told BBC Scotland.
"We have a lot of 72-hole stroke play events so I think the players who qualify to play in it will enjoy the kind of uniqueness of it, to get the men, the ladies all playing together on an unbelievably iconic venue like Gleneagles right in the middle of the country, which obviously helps.
"It's unique because it's the first time they've ever played actually together. I mean, they could be playing in the same team at the end of the mixed one so I think it's a great idea.
"This is something that hopefully will catch the imagination of the public and people and I'm looking forward to it. A lot of the public will see it as the whole family can come."