Rory McIlroy's Bay Hill win perfect timing with Masters approaching

By Iain Carter
BBC golf correspondent
Last updated on .From the section Golf99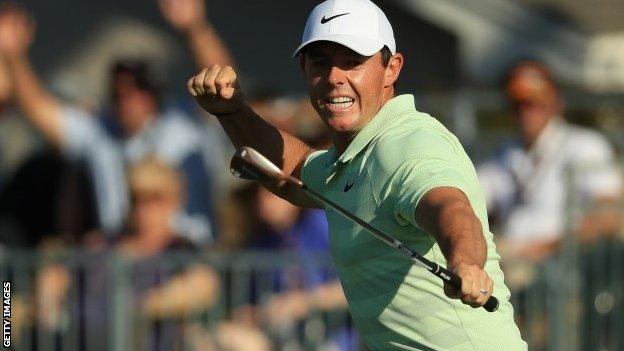 Rory McIlroy has never liked to be left on the outside. For the past few weeks the former world number one has been cast adrift from the exclusive golfing world, populated by the likes of Phil Mickelson, Tiger Woods, Paul Casey and Justin Thomas.
But, after one of the most important wins of his career, once again the story is Rory. His triumph arrived with impeccable timing because next month's Masters is just around the corner.
By turning around his indifferent putting form to find a midas touch on the greens, McIlroy discovered golfing gold in a final-round 64 to snatch the Arnold Palmer Invitational at Bay Hill.
It was a swashbuckling display in keeping with the spirit of the much missed tournament host, who passed away on 25 September, 2016, coincidentally the day McIlroy last collected a tournament victory.
Last Sunday the 28-year-old from Northern Ireland demonstrated to a tee the oldest adage in golf - drive for show, putt for dough. But it is not as simple as that.
Words of wisdom
Given his obvious ball-striking strengths it is easy to think that the driver is the most important part of McIlroy's golfing armoury. However it is not and nor is it his putter.
Neither weapon is of much use if McIlroy does not have the mental liberty and confidence to wield them with freedom and flair. Invariably he can achieve this with the longest club in his bag but it has proved much more of a struggle with the shortest stick.
This is why a meeting with Brad Faxon may prove vital to McIlroy's quest to climb back to the top of the golfing world. They got together at the Bear's Club in Jupiter, Florida last Monday to discuss the aspect of the game that was most holding him back.
The eloquent Faxon was a renowned putter during a stellar career that brought him a place in the US Ryder Cup team and it seems he imparted some vital words of wisdom.
"Freed up my head more than my stroke," was the way McIlroy described Faxon's intervention.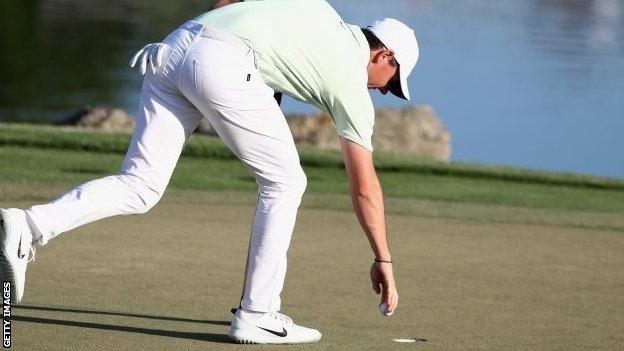 Having missed cuts at Pebble Beach in February and at the Valspar Championship, won by Casey earlier this month, McIlroy's putting was under huge scrutiny.
But over the first two rounds at the Arnold Palmer Invitational he gained almost six shots on the field with his putter. He continued the trend over the weekend and especially with his blistering finish to secure the title.
McIlroy was using a slightly longer putter at 34.25 inches compared with the 33 inch model which had him languishing 124th on the PGA Tour's putting stats.
"I was maybe complicating things a bit and thinking a little bit too much about it, maybe a little bogged down by technical or mechanical thoughts," he said.
The central message from Faxon was to acquire a more natural approach to the job in hand.
"The objective is to get that ball in the hole and that's it," McIlroy observed. "I think I lost sight of that a little bit.
"That sounds silly, I guess, but I just reminded myself that it doesn't matter how you do it as long as that thing goes in and that's sort of the mindset I had this week."
It served him beautifully and helped create a victory that fully justifies the 104 days he took away from golf at the end of last year to rid himself of a string of fitness concerns.
Confidence boost for Masters
"I'm really proud of myself, how I hung in there over the past year, with injuries and taking a little bit of time off," McIlroy said.
"To sort of get myself right coming into this year and all that hard work has finally paid off. I kept telling everyone, even when I was missing cuts and finishing 60th, it wasn't that far away.
"Just a couple little tweaks here and there and it's nice to be in this position again."
This was McIlroy's final strokeplay event before the Masters and a string of clutch shots down the closing stretch at Bay Hill will give him a massive boost as he approaches the one major he has yet to win.
"All these little barriers that you have to overcome, whether it be physical or mental, yeah, it's huge for my confidence going into the next few weeks," McIlroy said.
"I kept saying I didn't need a win going into Augusta to feel like I had a chance, I just wanted to see signs of good golf, and thankfully I've been able to get both."
Whatever golfing god is in charge of things at the moment is quite some impresario. Each week that draws us closer to 2018's first major further whets our appetite.
McIlroy has joined a stellar party of players who can take genuine cause for optimism to Augusta.
Woods continues to trend well as does last year's Masters runner up, Justin Rose. Mickelson and Bubba Watson have wins in the bank and so does PGA Champion Justin Thomas.
It all points to a vintage Masters but before that we have this week's Dell WGC Matchplay in Austin where world number one Dustin Johnson is the defending champion.
Perhaps this is the week he will stir from his winter slumbers and joins this pre-Masters party where the invites seem to go to not just the very best of players but those who possess compelling back stories.