Male and female golfers to compete together at European Golf Team Championships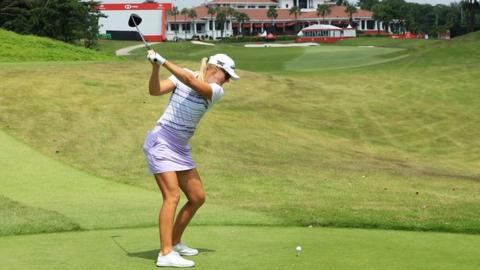 Male and female golfers will compete together at the inaugural European Golf Team Championships to be held at Gleneagles this August.
They will compete for equal prize money in both a men's and women's team matchplay tournament as well as an 18-hole mixed foursomes strokeplay event.
Players will represent their countries, with 16 teams of two in the matchplay competitions.
In the mixed foursomes, they will combine to form teams of four.
Qualification for Gleneagles will be determined by the men's and women's world rankings, with a maximum of three teams representing any one country.
The tournament forms part of the 2018 European Championships, a multi-sport event being staged jointly in Glasgow and Berlin.
It will bring together the existing European Championships of athletics, aquatics, cycling, gymnastics, rowing and triathlon.
Men and women will also compete together at the GolfSixes event in Hertfordshire in May.
"This summer's European Golf Team Championships will be a totally unique event," said Mark Lichtenhein, chairman of the Ladies European Tour.
"We are extremely pleased that the men and women will play competitively together for equal prize money.
"As we have seen through the Olympic Games in Rio, the recent Oates Vic Open in Australia and the announcement to have mixed teams in the GolfSixes in the UK, there is a tremendous public appetite to see men and women competing."
Keith Pelley, the chief executive of the European Tour, described the championships as an "exciting addition" to his circuit's schedule.
"There is a need for golf to embrace new formats and engage a wider audience," he said.
The tournaments will be played from August 8-12, a clear time on the women's LPGA Tour but the same week as men's PGA Championship, the final major of the year.
Tour takes 'first steps' into Saudi Arabia
Also on Thursday, Pelley welcomed the "first steps" to taking the European Tour to Saudi Arabia, when it was announced a tournament will be held in the country from 31 January to 3 February 2019.
In October last year, it was announced Saudi Arabia would allow women into sports stadiums from 2018, easing gender segregation rules as part of a number of reforms intended to modernise the country.
Women have to sit in a so-called family section, an area separate from the male-only crowd.