Eddie Pepperell confident more European Tour titles will follow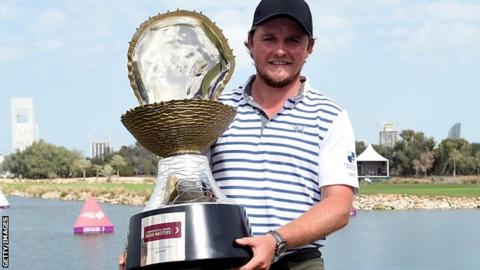 Eddie Pepperell says adjusting to the wintry weather back in the UK has been harder than coming to terms with winning his first European Tour title.
Pepperell, from Abingdon in Oxfordshire, won the Qatar Masters on Sunday to claim his maiden victory.
The 27-year-old is taking a break from the tour for six weeks despite his success to rest and recuperate.
"That was always going to be the plan," Pepperell said. "I just wished I'd picked a time without any snow."
Pepperell, who finished a stroke ahead of compatriot Oliver Fisher on 18 under, felt confident his first tour win would come following a number of top 10 finishes and a strong performance at last year's US Open.
He also had to reclaim his European Tour card after being forced to go through qualifying school in 2016.
"I always felt the win would come and it's almost been an inevitability," he told BBC Radio Oxford. "That's not to sound arrogant. It's just how I've seen it.
"My whole game's been progressing for a while now and I made a small change in personnel that's obviously had an immediate impact.
"Moving forward, I'm excited to maintain the level that I'm at and to keep improving. But more immediately, it's about keeping warm while I'm out walking the dog."