Richie Ramsay closes with 64 to finish sixth in Dubai Desert Classic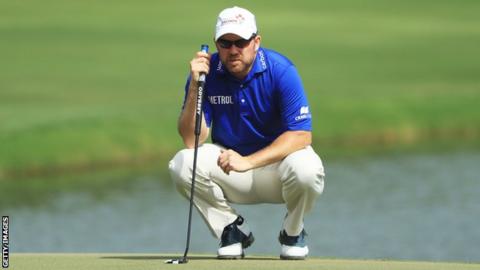 Richie Ramsay is enjoying the benefits of an extended rest following a strong finish at the Dubai Desert Classic.
The 34-year-old Scotsman closed the tournament with a blemish-free round of 64, Sunday's lowest score, to tie for sixth place.
His 16 under par total was seven shots behind winner Li Haotong of China, who held off the challenge of Rory McIlroy.
"I took a lot of time off and I think that showed how fresh I was," Ramsay told BBC Scotland.
"I came out to Dubai early with my coach Ian Rae and I think that's been an integral part of me playing well.
"We are coming from a place where you just can't practise effectively, especially your short game and playing here in Dubai and last week in Abu Dhabi is a great start to the season.
"You need that prep the week before but it's not an easy thing. You are away from home so you just have to embrace it and get a lot done.
"Obviously, it's only the second tournament of the season. I felt like it was coming and I just needed to be patient and keep my eye in on the putts.
"I'm not an early season player and it's a world class field here. A score of 20 under par leading after three rounds so, eight under par 64 - very happy with today's work."
Ramsay finished last season just outside the top 30 in the European Tour rankings.
As well as a change to his usual preparation, Ramsay has changed a few clubs in his bag over the winter.
"I'm always looking for the one percent, marginal gains," he said. "I've been 10 years on tour and you can't stop learning.
"If you make a mistake that's fine but you have to learn from it. You find out little things here about your game and about yourself and about how you approach stuff attitude-wise.
"I think with a bit of age comes a bit of maturity. I've still got a bit of fire in there. There is no doubt about that. That's a good thing but it doesn't show its head as much that's fair to say. I holed a nice putt at the last and I had a little fist pump. Just for myself as your almost competing with yourself at times."
'Stuck up a tree'
The two other Scots who made the cut in Dubai both shot rounds of 71 on Sunday.
Florida-based Scott Jamieson, 35, finished the week on nine under par but was left to rue dropping three shots over his final two holes on Saturday.
Stephen Gallacher, who won this event in 2013 and 2014, dug deep to make the weekend and was four-under after 13 holes in his final round before running up a double-bogey six at the 14th.
"I couldn't get any momentum going," the Kingsfield golfer explained. "For 12 holes today I hadn't really missed a shot but I am being punished for my bad ones just now. My ball stuck up a tree at the 14th, for example, when I was three-under.
"Then my drive at the last has gone 330 yards into the wind but has sat down in the second cut of rough. Never in a million years did I think I could hit it that far."