Rhein Gibson apologises for 'firing' caddie and throwing putter cover at him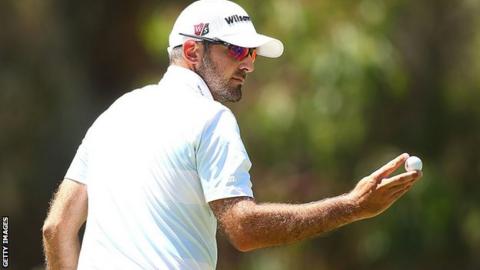 Australian golfer Rhein Gibson has apologised for throwing a putter cover at his caddie and "firing" him for picking up his ball on the 18th hole.
Gibson was one shot off the lead in the Bahamas Great Abaco Classic, before slipping out of contention in controversial fashion.
It began when Gibson, who was tied for second, hooked an approach on the par-five into some rocks beside the green.
Caddie Brandon Davis, in a video posted on social media titled "I Got Fired". said: "We looked for the ball. I'm thinking 'there's some rocks here, a few other things... maybe we can find it, maybe we can hit it'."
Davis said a Tour official then found the ball.
"Rhein and I go over, look at it, I say 'it's under two rocks, we got nothing'. Rhein turns around and walks to his bag as if to say 'forget it' - clearly intending never to play the ball.
"Supposedly we're a team in this game. The ball is dead, Rhein is clearly not hitting this golf ball, so I go over and pick it up."
The 31-year-old took a penalty drop and Davis says the problem was exacerbated when an official claimed Gibson was also due a one-shot penalty for his caddie "not getting consent" to pick the ball up in the Web.com Tour event.
That extra stroke meant the Australian, who removed the cover off his putter and threw it at Davis in frustration, dropped to third.
"I cost my player $16,000 because I went over to a hazard and picked up a golf ball," said Davis.
Gibson has since apologised, saying his actions "were less than professional".
"He plays a lot better when he's mad, we're friends off the golf course," added Davis.
The caddie maintains his actions were legal, saying the rules state "there is no penalty if there was no doubt or it was reasonable to assume from the player's actions or statements that he would make his next stroke from outside the water hazard".
"I found the rule. I'm defending what I did. I did nothing wrong," he added.
Canada's Adam Svensson won the event by one stroke at 17 under par from South Korea's Sung-jae Im, with Gibson third at 15 under.