Presidents Cup: Could introducing women invigorate 'depressingly one-sided' event?

By Iain Carter
BBC golf correspondent
Last updated on .From the section Golf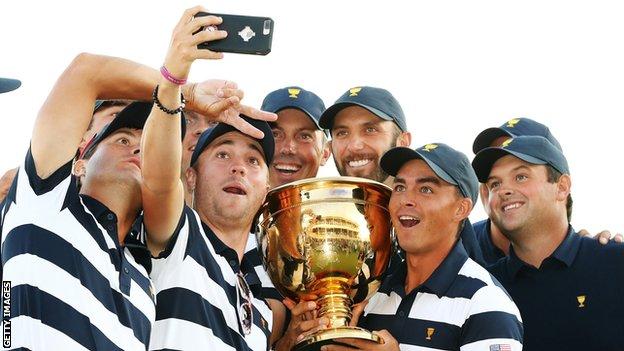 Jack Nicklaus' suggestion to the Earl of Derby that the United States' biennial opposition should be expanded to the whole of Europe saved the Ryder Cup.
In fact, it more than saved it. That 1977 conversation between the world's greatest golfer and the president of the PGA helped turn the matches into the biggest show in golf.
Soon after, dashing young Spaniard Seve Ballesteros and compatriot Antonio Garrido were supplementing Great Britain and Ireland stalwarts who had become perennial heavy losers to the might of the USA.
Europe were soundly beaten in their first two Ryder Cups, but from the single-point defeat of 1983, these jousts have never been anything other than utterly compelling. Indeed, Europe will defend a 25-year unbeaten home record at next year's match at Le Golf National near Paris.
These thoughts spring to mind in the wake of a depressingly one-sided Presidents Cup, which the Americans won 19-11 after requiring only one point from the 12 closing singles matches.
The US have now won 10 of the 12 matches against their International opposition - a nebulous collection of players from non-European and non-American countries.
The Internationals have won only once, at Royal Melbourne in 1998, and the 2003 contest in South Africa was tied. Otherwise it has been relentless American domination - just as it used to be in the Ryder Cup.
Set up in 1994 by the PGA Tour, the Presidents Cup tries to cash in on the attraction of team golf.
Both the Ryder Cup and Solheim Cup repeatedly show such formats can produce exciting, engaging action capable of transcending established golfing markets.
But the Presidents Cup is an artificial add-on that pales in comparison.
The Internationals struggle for a common identity and the match just completed will be remembered more for the man who presented the trophy than the golf that was played.
For the first time, a sitting American president handed over the cup, Steve Stricker receiving it from President Trump after his team's comprehensive triumph.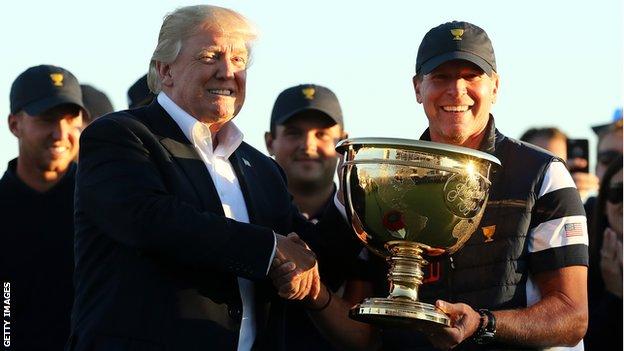 Perhaps it is time for someone of Nicklaus' golfing stature to have a word, to make a suggestion that helps turn this fixture into something a bit more engaging for non-Ryder Cup years.
After all, we know team golf works as a spectacle, even though it fails to properly deliver in its Presidents Cup guise.
One suggestion that caught my eye came from former LPGA professional Jeehae Lee.
"Here's an idea," she tweeted. "Same format, same regions, but a mixed-team event. Best men and women competing for US v International."
Eight of the women's top 10 would be eligible for the Internationals while just one - Lexi Thompson - is American.
"It would solve the competitive imbalance problem and make for more exciting team competition," Lee added.
"Give additional exposure to the LPGA talent/personality."
Of course, Lee is not of Nicklaus' stature but she is a leading executive with Topgolf, a driving range/bar enterprise that is showing one of the few areas of growth in the game at the moment.
She knows the marketplace and what attracts people to golf, and has a voice worth hearing.
Lee's idea would certainly give a welcome platform to the world's leading female players. With men and women competing together, it would also showcase a different and worthwhile aspect to golf.
This would surely give more value to the growth of the sport than the current Presidents Cup set-up.
It would be a daring and radical project and would ask many who follow or run the game to park their misogyny and do something fitting the 21st century.
It is, therefore, unlikely to happen.
Regardless, the match just concluded at Liberty National emphatically illustrated the strength of American men's golf.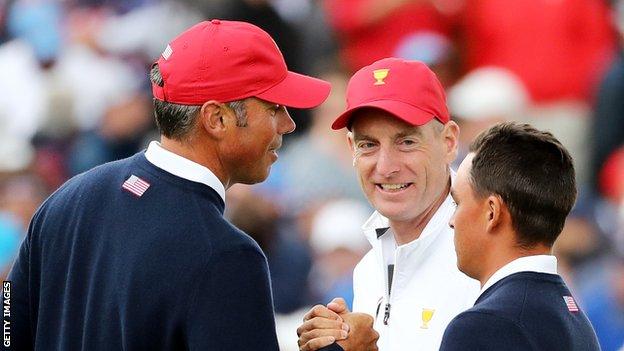 "I saw a great team," said American Ryder Cup skipper Jim Furyk, one of Stricker's assistants in New Jersey.
"Obviously we've known there's a lot of camaraderie. We had five young players, or five new players to international competition, so it's great to see them not only compete and get experience, but play really, really well."
Furyk flies to Paris later this month to check out the course that will stage next year's match, and join Europe's skipper Thomas Bjorn in promoting the event.
"I'd love to have these 12 on our team next year," Furyk said.
"I became a lot closer friends with each and every one of them. I really would like them to enjoy what they did this week, soak it all in, have fun with it.
"A month from now, we'll get to work and we'll start getting ready for Paris."
Europe have not been beaten at home in a Ryder Cup since the 1993 defeat at The Belfry, but in France the Americans will be defending the trophy they won back last year at Hazeltine.
It is a delicious prospect, one that needs no artificial ingredients - a match between two easily identifiable and well-matched entities.
For that we have to be thankful for Nicklaus' timely intervention 40 years ago.