Tiger Woods admits he may never return to competitive golf
Last updated on .From the section Golf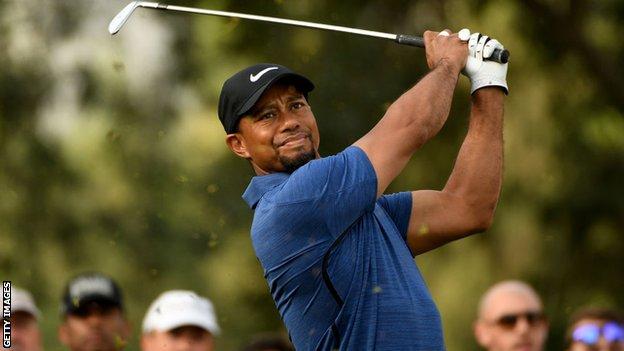 Fourteen-time major winner Tiger Woods has admitted he may never return to competitive golf.
Woods said he had even doubted whether he could work as a captain's assistant at this week's Presidents Cup because riding in a golf buggy "hurt too much".
The 41-year-old American has had multiple back operations in recent years and withdrew from his last tournament in January with back spasms.
"I don't know what my future holds," he said.
Woods said last week that he had been hitting 60-yard shots but had no date in mind for a return to competitive action.
Asked on the eve of the Presidents Cup whether it was possible he may never compete again, he said: "Yeah, definitely.
"That's going to take time to figure out what my capabilities are going forward - and there's no rush."
Woods, along with Fred Couples, Davis Love and Jim Furyk, will assist Steve Stricker at the Presidents Cup, a matchplay tournament between the US and an international team.
But he said that earlier this year he feared he may not be able to do the job.
"I didn't know if I was going to be able to be here, because I couldn't ride in a cart," he said. "The bouncing hurt too much.
"That's all gone now, which is fantastic.
"I'm still training, I'm getting stronger. But I certainly don't have my golf muscles trained because obviously I'm not doing anything golf related."
Woods last had surgery in April, which followed his withdrawal from the Dubai Desert Classic in January.
In May, he was arrested for driving under the influence near his home in Florida. Toxicology reports showed a a variety of prescription drugs in his system.