Russell Knox focused on 2018 Ryder Cup automatic spot in France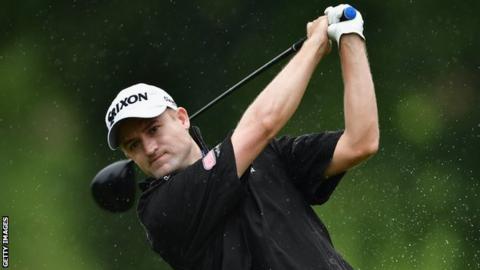 Russell Knox plans to put the disappointment of missing out on a 2016 Ryder Cup slot behind him by earning automatic qualification in 2018.
Though struggling for form, Knox hopes a run of strong finishes will clinch a place in Thomas Bjorn's European team to face the United States in France.
The 32-year-old from Inverness told BBC Scotland: "I hope I make the team comfortably.
"I'm going to try my best. It's a huge goal of mine."
Last year, Europe captain Darren Clarke described his decision not to make Knox, who was ranked 20th in the world at the time, one of his captain's picks as "probably as difficult a phone call as I've ever had to make in golfing terms".
Knox is determined that Bjorn will have no such dilemma for the tournament at Le Golf National in Saint-Quentin-en-Yvelines, because he plans to have earned an automatic spot in the Dane's team.
"I've got my bad golf out the way in a year when it didn't matter," joked Knox, in England for the British Masters at Close House.
"After being close last time, I want to prove to myself and everybody else that I can make the team.
"It would be great to have some great finishes at the end of the year, then going into next year I can feel I am gaining momentum and confidence and can push on.
"Being stationed in the US, the way I'd make the team would be the world points list.
"If I have to add a couple of events in Europe towards the end to help me then maybe I will, but good play in the US is going to take care of making the team."
Knox has missed the cut at 12 of the 24 tournaments he has played in 2017 but is upbeat about his prospects for the coming year.
"My game's been alright," he said.
"I haven't quite had the finishes I would like but my ball-striking is coming along nicely.
"We all know golf is hard and can get you down but I'm very optimistic that things will go my way.
"I feel like I'm better than 61st in the world but I haven't proven that. I only have myself to blame. I've just got to dig deep and start playing better.
Currently 80th in the Race to Dubai rankings, Knox will have to jump 20 places to play in the World Tour Championship in the United Arab Emirates in November.
"Talent wise, I'm just as good if not better than I was last year so it's just a matter of time before I feel like I'm playing better," added Knox, who was ranked 18th in the world in 2016.