British Masters: Rory McIlroy keen to avoid accusations of favourable treatment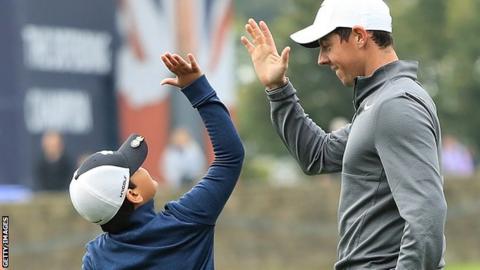 Rory McIlroy says his decision to enter the British Masters was influenced by the desire to avoid further accusations he receives favourable treatment.
McIlroy has appeared in three European Tour events this year, and needs to take that to five to retain membership and be eligible for the 2018 Ryder Cup.
Injury meant he did not play the required number of tournaments in 2015, but he was given a special exemption.
"I didn't want to put the European Tour in another sticky position," he said.
McIlroy will compete in his fifth European Tour event this year when he plays in the Alfred Dunhill Masters next week.
The 28-year-old Northern Irishman was added to the British Masters field after failing to qualify for last week's Tour Championship in the US.
Unfair advantage?
European Tour chief executive Keith Pelley cited "exceptional circumstances" in granting McIlroy permission to remain in the 2015 Race to Dubai, which he led by 1,613 points from Danny Willett.
Willett felt McIlroy, who went on to win the money list title with victory in the season-ending DP World Tour Championship, had been given an unfair advantage.
"I want to play Ryder Cup next year so I've obviously got to play my five events in Europe," said McIlroy.
"There's minimums and stuff like that and I've sort of been quite close to the edge the last few years.
"I thought I'll play an extra one and not have to make them make the hard decision and have to answer to the membership about why I didn't play the minimum when I could have and all that sort of stuff."
McIlroy is on course for only the second winless season of his career as he prepares for this week's tournament at Close House.
Health check
Meanwhile, McIlroy will subject himself to a comprehensive health MOT as he aims to make his second decade as a professional even more successful than the first.
He considered ending his injury-plagued season after a tie for 22nd in the US PGA Championship in August confirmed a third year without adding to his tally of four major titles.
"I'm going to Manchester on the 19th and 20th of October to do some testing, basically a full health MOT type of thing," McIlroy said.
"There's been a couple of times this year where my joints have been inflamed or I just haven't quite had the energy levels and whatever.
"So I just want to get some food allergy stuff done and use this time to delve deeper into trying to see where I can really get better and be more disciplined.
"I would be the first one to say my diet probably hasn't been the best over the past year and a half. You're always eating out at restaurants and sometimes you don't make the best choices.
"Like a dog, whatever you put in front of me, it's going to be eaten whether I want it or not."