Jordan Spieth and Justin Thomas lead golf's new world order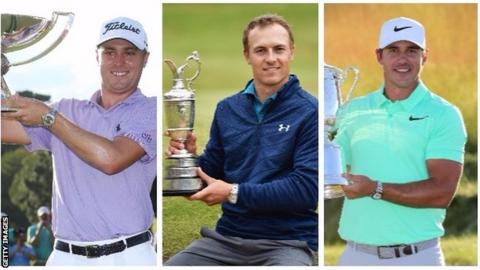 Golf is getting younger by the moment. That has to be the conclusion after 23-year-old Xander Schauffele's Tour Championship victory capped the PGA Tour's most youthful year.
Think of it this way; at just 28, Rory McIlroy is the wrong side of the average age of the top-10 finishers in the play-off standings. That is a sobering thought for the Northern Irishman as he headlines this week's British Masters, still seeking his first win of the year.
Indeed, in the US campaign just completed the average age of the winning players was only a shade under 29, the youngest mean for a full season on record.
This statistic is inflated by wins for Pat Perez (41), Henrik Stenson (41) and 48-year-old Rod Pampling, with the Australian's a seriously unlikely victory.
While still possible, victories for players of a more advanced vintage are growing fewer and further between. It is reflected in the make-up of this week's American Presidents Cup side, where half of the team are 27 or younger.
For past generations, professional golfers were considered in their prime in their early 30s. In 1987, Sir Nick Faldo won the first of his six majors the day after his 30th birthday.
Now the clock ticks far faster because of a constant influx of hungry and precocious young talent.
This year, three of the four majors were won by players in their 20s and of those US Open champion Brooks Koepka was the oldest at 27. Open winner Jordan Spieth and Justin Thomas, the PGA champion and now FedEx Cup winner, are both 24.
The 2017 Players Championship crowned its youngest winner in Si Woo Kim (21) while the four World Golf Championships were split equally between the 25-year-old Hideki Matsuyama and the comparatively aged Dustin Johnson, who is 33.
Here's another stat; the average age of golf's top-five players is 25, four years younger than their counterparts in tennis.
Golf has always had young tyros arriving on the scene and shaking up the game. After all, Young Tom Morris remains the youngest Open champion for his win in 1868, aged 17.
More relevantly, Jack Nicklaus was only 22 when he won his first major in 1962 and Seve Ballesteros was only 19 when he finished second at the Open in 1976.
The difference now is the sheer weight of young talent coming through, inspired no doubt by the deeds of Tiger Woods, who was only 21 when he became the youngest winner of the Masters in 1997.
In his decade and more of dominance, Woods showcased relentless levels of athleticism and mental strength never before seen in golf. Today's top stars were shown, at a very young and impressionable age, what it took to rule the sport.
Their coaches could see it as well and found methods to ingrain traits that had helped Woods to his 14 major titles.
And of those attributes it seems fearlessness is a defining quality. These young guys go for it with an extraordinary freedom that allows them to express their talents.
It has been the hallmark of McIlroy's game, collecting four majors by the age of 25, and it was apparent at East Lake as Schauffele completed an astonishing rookie season by winning the Tour Championship.
Thomas took the $10m FedEx spoils with a belligerent final-round 66 and said he was "bummed" that it was not quite enough to add to his season's tally of five tournament victories.
By contrast the 40-year-old Paul Casey seems haunted by cumulative scar tissue from so many near misses, a scenario that perhaps illustrates the game's developing generational gap.
There is little physically wrong with his golf game as he repeatedly shows the power and technique required to mix it with the youthful but audacious band leading the way.
In his last eight tournaments, all big events, Casey has finished in the top five on no fewer than five occasions. Twenty-three of his last 32 rounds have been in the 60s.
But when he scents a chance of victory he seems to become inhibited and his certainty evaporates. The Englishman's final-round 73, after taking a two-stroke lead into the final round in Atlanta, was the latest example.
A couple of weeks earlier he was fourth in Massachusetts after being one of only two contenders not to break 70 in the closing circuit.
Before that, his fourth-round 71 was comfortably his worst score of the week at the Northern Trust Open, where he was fifth.
Casey began the Open at Royal Birkdale with a brilliant 66 but followed that with a 77 to blow his chances. With the pressure of contending off over the weekend, he shot consecutive 66s.
He threw away his PGA chances with a third-round 74 after opening with terrific tallies of 69 and 70.
This magnificent ball-striker, ranked 15th in the world, does not need to be told of this destructive pattern. He is fully aware it is one that amply demonstrates just how hard it is to win tournaments.
He is not the only established pro for whom life seems to be getting more difficult with each year that passes. Lee Westwood is now 44 and has failed to win for three years, a similarly barren period to the one being endured by Casey.
This week Westwood hosts the British Masters at Close House, near Newcastle. Along with McIlroy the field boasts Masters winner Sergio Garcia.
The 37-year-old has enjoyed a crowning moment in winning at Augusta in April but if he wants to add to that glory he will have to overcome the audacity of youth, which appears to be a priceless commodity in golf at the moment.