Ian Woosnam: Journey from Llanymynech to World Golf Hall of Fame
By James Pontin
BBC Wales Sport at Golf Hall of Fame induction, New York
Last updated on .From the section Golf30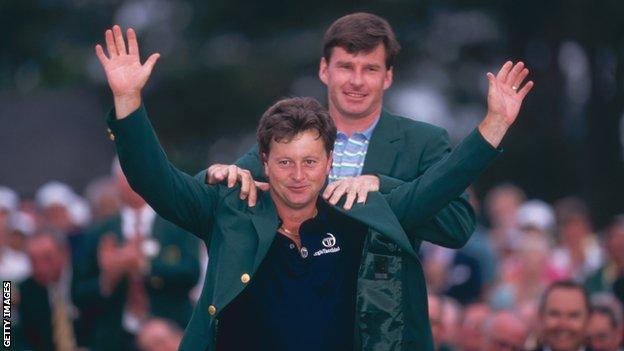 Ian Woosnam's golfing journey had an international flavour from the day he started playing at his local golf course.
On the fourth hole at Llanymynech he would tee-off in Wales and putt out in England.
The following years have taken in every major course on the planet, 50 weeks as world number one and the 1991 Masters title.
It is unlikely when he turned professional in 1976 the Welshman could imagine just how different the destination would be to his starting point.
The latest stopping off point on that journey was the Cipriani Wall Street restaurant in New York City, where the 59-year-old was inducted to the World Golf Hall of Fame.
A fitting time to look back on an outstanding career.
An enviable collection of honours
'Woosie' stands five foot four and half inches tall. Diminutive in comparison to the tall, athletic golfers of today.
What he lacked in height Woosnam made up in raw power - attributing his big-hitting to the days when he had to lift bales of hay into the barn on his father's Shropshire farm.
Gary Player, the nine-time Major champion, noted their similarity in height when writing the foreword for Woosnam's autobiography.
"As small guys in golf, it's important that we stick together," Player wrote.
"They say that dynamite comes is small packages; well, Woosie has been dynamite on golf courses all over the world and there is no doubt in my mind that, pound for pound, Ian has been one of the finest players ever to take up the game."
Quite an accolade from the 1974 Hall of Famer.
Starting out as a professional golfer was a long way from the big money and private jets that came later.
Woosnam zigzagged from tournament to tournament, living out of his camper van. Money was tight, so a can of baked beans at the end of the day often substituted for a hearty meal.
But canned food and self-drive road trips were soon replaced by the comfort of his private plane as he jetted across the globe in a pursuit to become the best in his sport.
That title, however, belongs to the 18-time Major winner Jack Nicklaus.
"I always enjoy playing with Woosie," recalled Nicklaus. "He's a fun character to be with and it's nice to have him join us.
"He's certainly deserved being in the Hall of Fame. He's won a lot of tournaments internationally and represented Great Britain, and of course Wales, all over the world."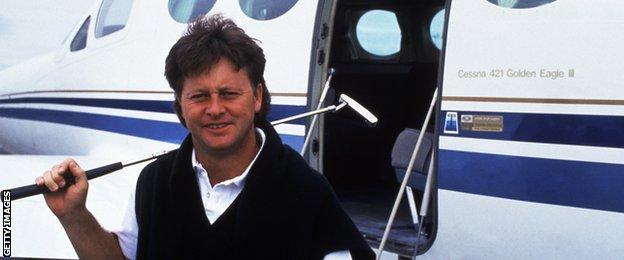 Fifty weeks as world number one
In a career which has spanned more than 40 years and shows no sign of stopping, Woosnam has amassed an enviable collection of golfing honours and titles.
Since his maiden win in 1982 at the Swiss Open Championship he has gone on to secure 46 worldwide victories - 30 of those have come on the European and PGA Tours.
The highlight is unquestionably the 1991 Masters victory at Augusta National. When he sank the winning putt Woosnam had not just bagged himself a famous Green Jacket, he had cemented himself on the world stage.
He has won more professional golf tournaments on tour than any other male British golfer and, for 50 weeks in 1991 and 1992, he was number one in the world rankings.
"You don't get there unless you are one of the best of the best," explains World Golf Hall of Fame historian Dr Tony Parker. "Ian Woosnam is one of the best of the best."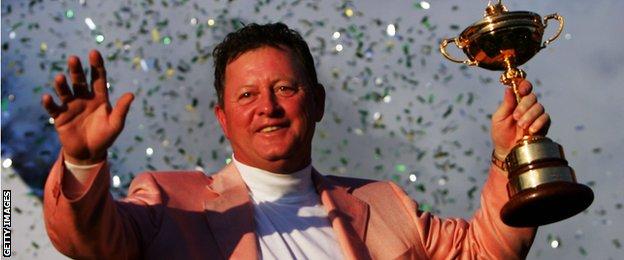 European Player of the Year
Regularly topping the leaderboards in the 1980s and 1990s he became known as one of the "Big 5" with four other World Golf Hall of Fame members - Sir Nick Faldo, Bernhard Langer, Sandy Lyle and the late, great, Seve Ballesteros.
"I seem to remember that Woosie was part of the Ryder Cup team of 1987 when I captained the USA Team," says Nicklaus.
"They were a bunch of pretty good young players who weren't really very well known. They came along and whupped us at Muirfield (Ohio) and became a little better known after that!"
It was the first time that the Americans had lost on home soil and another marker for Woosnam in a glittering affinity with the Cup, which saw him play in eight consecutive contests between 1983 and 1997.
In 2006 he captained the European Ryder Cup team to an 18½ - 9½ victory over the American team at the K Club in Ireland.
Woosnam has won the European Tour Order of Merit as the leading money winner and twice been named European Player of the Year. In 2006 he was appointed an OBE in recognition of his contribution to golf.
Class of 2017
In a long and illustrious career Woosnam has often been the sole flag-bearer for Welsh golf; often having to inform audiences overseas that Wales is not a small town in England.
But perhaps the need to correct geographical inaccuracies may finally come to an end with his induction in the World Golf Hall of Fame.
For so long overlooked, Woosnam has finally been inducted into the coveted fraternity as part of the Class of 2017 along with Davis Love III, Meg Mallon, Lorena Ochoa Reyes and the late Henry Longhurst.
Like the fourth hole at Llanymynech Golf Club, Woosnam began in one place and has finished up somewhere quite different.
His induction in the Hall of Fame seals his place alongside the very best.