Charley Hull: Non-stop Solheim Cup and no to three-round majors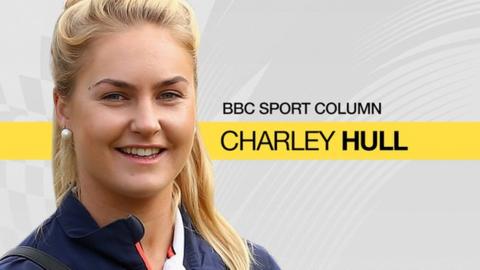 Charley Hull is 21 and Britain's number one female golfer. In her second column for BBC Sport she talks about why a three-round major is wrong, the majors blurring into one and the non-stop nature of the Solheim Cup schedule.
Majors should be four rounds
This month's Evian Championship, the final major of the women's season, was reduced to three rounds because the weather was so bad.
Tournament organisers made the right decision to cancel the first round because the high winds made it dangerous with balls flying round everywhere but it should have been extended to Monday because it's a major and you don't want to be playing majors over three rounds.
It was frustrating. Several of the players were saying the tournament shouldn't be played at this time of the year because it's always wet and windy at the course, which is in south-east France.
When they called the meeting to tell us they were cancelling the opening round I actually had my headphones in so I wasn't listening and I needed to go to the toilet. When I came out everyone was like we're not playing any more.
The South Korean player So Yeon-ryu was annoyed because she was leading but others who were like four over were happy.
Taking on the Stars & Stripes
Obviously losing the Solheim Cup was not great, but I was happy with the way I played in my three matches. I won one, lost one and halved one.
Unfortunately I hurt my wrist on the first day. As soon as I came off the course I went to see our physio team. They knew there was a problem, because they had seen me shaking my hand on the TV.
Captain Annika Sorenstam decided to rest me on the Saturday so I was fresh for Sunday. I kind of expected it. I wasn't annoyed at all.
There was a good mood in the camp on Saturday evening, even though we were five points behind going into Sunday's singles. Annika gave a good speech and it was a fun evening.
I still thought we could win. You should always think your team can win.
The Solheim Cup is fun but it's such a busy week and you can't practice as much as you want to because there are early morning gym sessions, photo-shoots, press conferences, dinners. It's non-stop!
But you do get some time on your own. We get our own rooms. It's not like a school trip!
The American fans were fine. Some players were moaning about them, but I don't really listen to them. I just find it funny when they start cheering when we hit a bad shot. It's just a golf event. It's just a sport. You just go out there and play.
In 2019 Europe will host the event at Gleneagles in Scotland. I've never played the course but I don't believe in home advantage in the Solheim Cup. You're just on a golf course. You're hitting shots. If you hit good shots you win, if you hit bad shots you lose.
The majors
I can't really remember how I played in the majors because they kind of blur into normal tournaments for me. I don't get nervous and just treat them like any other tournament.
When I'm playing I just concentrate on my own game and try and make birdies. It can be hard to concentrate, but that's where my caddie Adam comes into it. Sometimes I don't want to look at the scoreboard so he has to subtly give hints.
But other tournaments, if I'm bored on the course, I'll look at the scoreboard. I don't stick to something. I just see what's going for me that week.
The only major I didn't play well at was the PGA Championship, where I wasn't hitting it very well off the tee and I missed the cut. I didn't really like the course.
Injured wrist on the mend
When I was 15 years old I injured my wrist when I was playing in Florida and it's something I've had to cope with ever since.
I used to have to wear a support in bed but now I just take anti-inflammatory tablets.
The fracture has actually healed a little bit now so it's just ligament damage. But I've rested it quite a bit recently and it's feeling much better.
I can still play most shots I'm just a bit more wary when the ball goes in deep rough, that's about it really.
It's always in the back of my mind. Some days it can hurt a bit more and so it affects my game but other days it feels fine.
Maybe in the future I will have to pick and choose my tournaments but I don't have to at the moment.
A week off… maybe
I think I'll give myself a week off golf over Christmas. Some golfers take a month off but I won't do that. I just like playing too much!
I'm really looking forward to defending my title at the CME Group Tour Championship in November. It's the second tournament I've won and the first on the LPGA Tour, so going back as defending champion will be really special.
It's the last tournament of the season, so after that I'll take a couple of months off competitive playing. I don't have any holidays planned because I like being at home with my friends and family.
Most days I'll go to the gym, practice and rest. I'll still be playing golf though, even if it's just with my friends.