Paul Lawrie believes the cost of golf must come down to attract new talent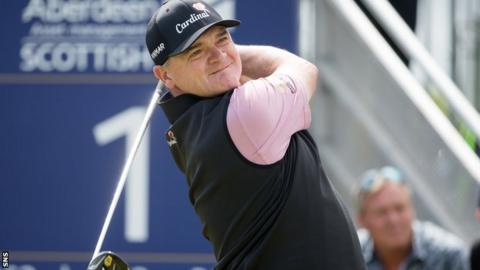 Former Open champion Paul Lawrie says the expense of playing golf is driving away the next generation of talent.
A recent study showed Scotland lost more registered golfers in 2015-2016 than any other country in Europe.
And, while Scotsman Lawrie identifies a number of reasons for the drop in numbers, he sees cost as one of the biggest factors.
"If two of your family want to take up golf, it's not cheap," the 48-year-old told BBC Scotland.
"It's not like buying a football and a pair of boots.
"It's up to everyone to try to get together and make it more affordable and grow the game. We need to grow the game and get people involved.
"We need to get kids involved and get shorter courses. Even make the hole bigger. Just to get kids enjoying it a bit more."
A report published last week by KPMG into golf participation in Europe showed that, while Scotland was seventh in terms of registered players, the numbers dropped by 6,711 to 192,533 from 2015 to 2016. That represented the biggest drop in numbers in Europe.
Lawrie says that, even in his own golf foundation, fewer kids are taking to the game.
"We have seen a little drop off with the kids," he said at the launch of tickets sales for next year's Open at Carnoustie, where Lawrie won his major title.
"There are less numbers now than there were even three or four years ago.
"There are iPads on the go and all sorts of things that, when we were young, we just didn't have. There was football in the street or you went down the golf club with your mates and played golf all day when you had a day off. Now that doesn't seem to happen as much.
'Some things need to be changed'
"There has been a little bit of a stuffy attitude towards it for a while. People need to take a step back and let kids have fun again.
"A lot of people are trying hard to change that. It just takes time. People have let it go for so long that it is going to take a while to change, but slowly we are getting there."
Lawrie won the Open Championship at Carnoustie in 1999 after a play-off against Frenchman Jean van de Velde, who had walked onto the 18th tee with a three-shot lead but imploded.
The Aberdonian is the last Scot to win a men's major title and no Scot has won on the European Tour since March 2015, when Richie Ramsay won the Moroccan Open.
Lawrie insists the talent is there and that the players are doing all they can to get back to the elite end of the game.
"We have had the talent coming through and there are enough good players with a chance to win, it just has not happened," the two-time Ryder Cup player said.
"Scottish golf is obviously not going through a great time at the moment.
"There are a lot of people who have theories on that at the moment. I have my own opinions, but I am still an active player.
"There are some things that need to be changed and some things that need to be done.
"Everyone is working really hard. I can assure you the players are not slacking. They all want to win tournaments."
Next year's Open is back at the scene of Lawrie's most famous moment, when he came from 10 shots back to lift the Claret Jug in 1999.
However, he admitted that, when he started his round that day, taking the trophy was the last thing on his mind.
"I wasn't thinking of winning the tournament," he said. "I was hoping to get into the top four to get into the Masters as I hadn't played in it before."