Northern Ireland Open: Sharvin only Irish player to make Shootout Sunday at Galgorm
Last updated on .From the section Golf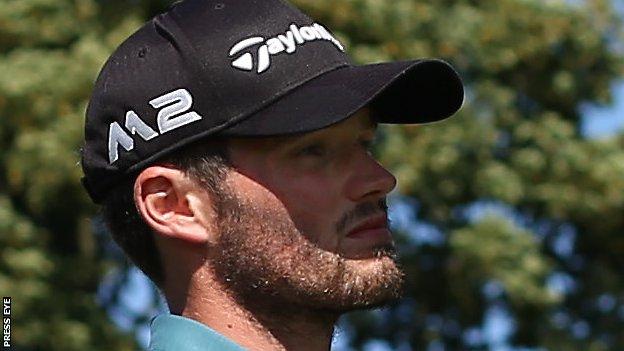 Galgorm Resort & Spa Northern Ireland Open third-round leaderboard
-11
M Schwab (Aut) ;
-10
V Riu (Fra), L Nemecz (Aut), R Kellett (Sco);
-9
T Murray (Eng), B Neil (Sco);
-8
A Tadini (Ita), N Geyger (Chi);
-7
D Law (Sco), C Sharvin (NIR);
-6
S Einhaus (Ger), E Goya (Arg), D Huizing (Ned), J Lando Casanova (Fra), M Nixon (Eng), T Linard (Fra), C Braeunig (Ger), R Sciot-Siegrist, R Santos, J Winther (Den), A Chesters (Eng), M Rohwer
Full leaderboard
Cormac Sharvin will be the sole Irish player in the Sunday Shootout at the Northern Ireland Open.
The Ardglass man carded a 66 in the third round to finish seven under and in a tie for ninth at Galgorm.
The top 24 progressed to the Shootout format, a series of six-hole stroke play games to determine the winner.
Austria's Mattias Schwab topped the leaderboard on 11 under while tournament ambassador Michael Hoey was tied 45th on two under after a 70.
There was a five-man play-off for the final two spots with Max Orrin and Manuel Trappel going through.
"I'm very pleased - I had two good chances on my last two holes that got me into the play-off and then luckily I managed to get a birdie and get through," said Austrian player Trappel.
"I was obviously very nervous. Playing in a play-off is always nerve-racking but I managed to keep calm and did my best, and it worked out pretty well.
"Sunday will be interesting for sure. I had a bit of experience from the matchplay event in Spain earlier in the season.
"The crowds and the set-up of this tournament are amazing, such a good course, so it should be a special day."
The top eight get a bye into the second round of matches on Sunday with Sharvin competing in the first round.
Sharvin will play Portugal's Ricardo Santos in his first-round match.
| Northern Ireland Open Shootout draw | |
| --- | --- |
| Round 1 | Round 2 |
| Ashley Cheaters v David Law | Cheaters or Law v Matthias Schwab |
| Daan Huizing v Manuel Trappel | Huizing or Trappel v Alessandro Tadini |
| Max Orrin v Estanislao Goya | Orrin or Goya v Ross Kellett |
| Jerome Lando Casanova v Jeff Winther | Casanova or Winther v Bradley Neil |
| Sean Einhaus v Martin Rohwer | Einhaus or Rohwer v Lucas Nemecz |
| Robin Sciot-Siegrist v Thomas Linard | Sciot-Siegrist or Linard v Tom Murray |
| Ricardo Santos v Cormac Sharvin | Santos or Sharvin v Nico Geyger |
| Christian Braeunig v Matthew Nixon | Braeunig or Nixon v Victor Riu |