Northern Ireland Open: Tournament tweaks Perth format to ensure sixes success
Last updated on .From the section Golf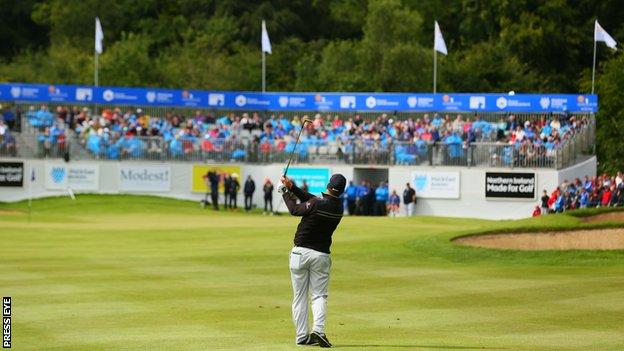 Northern Ireland Open chief Gary Henry says a huge amount of planning has gone into ensuring that the event's new final-day format proves a success.
A third-round cut will see only the top 24 involved in a series of six-hole matches on Sunday's final day.
The innovation in the Galgorm Castle event is a tweaking of the format used at the inaugural World Super 6 European Tour event in Australia in February.
"We have had detailed discussions with all involved in Perth," said Henry.
"We spoke to both the people from the European Tour and others who ran the event as well as the players.
"Ryan Fox, who won the Northern Ireland Open last year, was one of the guys who played in Perth and he had quite a lot of input with us.
"He was in the unfortunate position in that he tied for 24th in Perth and got beaten in the play-off and didn't play on the Sunday.
"We wanted to get the feedback from guys like him. He told us that despite missing out on Sunday's play by a whisker that he liked the innovation and he told us he thought the format would suit the course.
"We had a lot of detailed feedback from an organisational perspective and we've made tweaks based on that information," added Galgorm Castle's managing director Henry, who is tournament director at this week's European Challenge Tour event.
'Stadium golf atmosphere'
The most significant different from the Perth event will see Sunday's six-hole matches being played in a stroke play format as opposed to match play.
This will ensure that all the matches reach the 18th green which, organisers hope, will contribute to a stadium golf atmosphere as the tournament concludes.
The opening three rounds of the European Challenge Tour event at the Ballymena venue will be played in the normal stroke play fashion, including the usual 36-hole cut as the top 60 and ties progress.
However, come Saturday evening it will be all change in the tournament as only the top 24 make the second cut to the last day.
A play-off will almost certainly be needed on the Saturday evening to confirm the leading 24.
The top eight at that stage will earn a bye from the opening series of six-holes matches on Sunday as the tournament continues on with five rounds of medal match play over the abbreviated rounds.
This year's tournament will again be presented by the golf management company owned by pop star Niall Horan and he has given his strong backing to the new format.
"We are excited to be coming back to the NI Open and introducing a brand new format," says the One Direction star.
"Shootout Sunday will be a great concept, both for the players and spectators."