The Open 2017: Amateur Connor Syme has time on his hands, says Russell Knox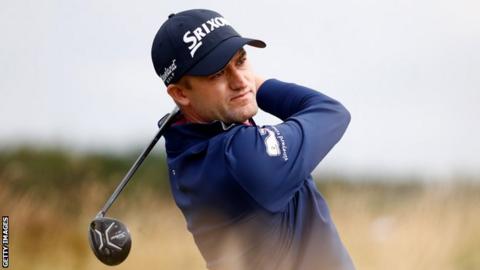 2017 Open Championship on the BBC
Venue: Royal Birkdale Dates: 20-23 July
Live: Listen to BBC Radio 5 live commentary and follow text updates - including in-play video clips - on BBC Sport website and mobile app. TV highlights on BBC Two.Click for full times.
Russell Knox thinks 22-year-old amateur Connor Syme is making the correct decision in delaying his move to the professional ranks.
The pair are among the seven Scots taking part in this week's Open at Royal Birkdale.
"I think it's good that he is staying amateur," Knox told BBC Scotland "Good for him. There is no rush.
"It will be good for him to get more experience before he starts playing for money."
Syme is making his debut at a major after qualifying at Gailes Links and will also be playing at the Lancashire course for the first time.
"This will be amazing for him," said Knox. "For an amateur to play in front of this crowd, over this course, it will be pretty special."
As world number 47, Knox is the highest-ranked Scot taking part in the 146th Open Championship and is in awe of the way the Birkdale links have been set up.
"It's spectacular," he said. "It's one of the best courses I have ever seen.
"The condition of the course is flawless. It's going to be a great test.
"For me growing up in Scotland, it would be nice to play well in this one.
"There are so many big tournaments now. We don't play enough on the links courses now. It is just a completely different style of golf."
'Be as positive and optimistic as possible'
Knox, 32, was disappointed with his performance at last week's Scottish Open and has now missed the cut at three of his last four tournaments.
"I'm playing better than I am scoring," he insisted. "My game has been better, but it's also not far off from where it needs to be.
"I am very optimistic that the next month or so I am going to have some great finishes, so I have just got to keep at it, stay positive.
"Everyone goes through a little down turn. This is obviously mine right now, but I will come out of it eventually."
Knox agrees that a positive mental attitude on the course could be the key for him this week.
"You have to fake it before you make it," he said. "If things are not going too well, moping around isn't going to help.
"We are all going to hit bad shots, so you just have to get on with it and try and be as positive and optimistic as possible."
Asked how he would feel if, come 18:00 BST on Sunday, he would be striding up the 18th fairway with a two-stroke lead, a huge smile came across the face of the Invernessian.
"I would have goosebumps I think," he added. "You dream of it. That is why we are here.
"I am not just trying to make up the numbers. I want to win this thing as bad as anyone else.
"I would like a three shot lead though."