Leona Maguire captures British Amateur Championship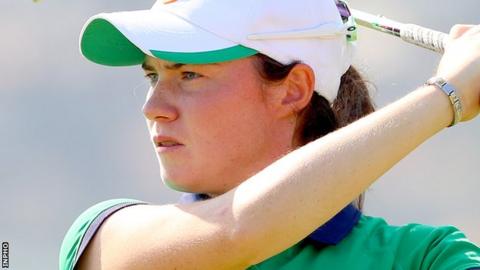 Leona Maguire secured the biggest win of her career at Saturday's Ladies' British Amateur Championship final against Ainhoa Olarra of Spain.
The Irish player won 3&2 in the 18-hole decider of the matchplay event held at the Pyle and Kenfig Golf Club in Wales.
It earns the 22-year-old entry into the Women's US and Women's British Opens.
Maguire, top of the world amateur rankings, earlier defeated Paula Grant of Lisburn in the last eight and Anna Backman of Finland in the semi-finals.
Maguire was the leading amateur at last year's Women's British Open at Woburn and will aim to repeat that feat at the 2017 tournament at Kingsbarns, near St Andrews, in August.
"It has been a fantastic week and I have played some really great golf," said Maguire.
"It is a real highlight of my career to have won the championship. It's one of the biggest amateur events and one that I felt I hadn't given as good a go as I could have done in the past few years.
"It is great to get my name on the trophy alongside some of the biggest names.
"Ainhoa played really great golf and she pushed me all the way to the end.
"I knew I was going to have to play well. She threw all the birdies she could at me and I was glad I was able to rise to it."