Iain Carter column: Has golf lost ground over driving distances?

By Iain Carter
BBC golf correspondent
Last updated on .From the section Golf143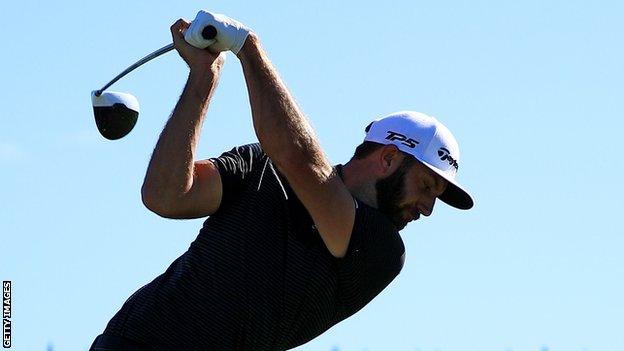 One of the game's most influential leaders has admitted the modern golf ball travels too far for the good of the sport.
Mike Davis is chief executive of the United States Golf Association (USGA), which, along with the St Andrews-based R&A, sets the rules of the game.
In recent decades, courses all over the world have been forced to expand to accommodate the vast distances generated by modern players. They are helped by drivers with large sweet-spots and balls that spin less and travel further.
Many courses have been rendered obsolete for the professional game because they are simply too short. Others, such as the Old Course at St Andrews, need to use tees outside the boundaries of the course to create the requisite distance to make holes sufficiently testing.
Former greats including Jack Nicklaus, Gary Player and Greg Norman insist the ball is travelling too far. Indeed Nicklaus, an 18-time major champion, told BBC Sport last year: "It is the most ridiculous thing in the game."
Yet the authorities have done nothing to shorten the distance a ball flies. They appear accepting of the status quo, and the R&A and USGA published recent data they claim proves that length off the tee has plateaued.
This may be the case, however few tournament weeks go by without stories of professionals dispatching drives more than 400 yards.
Current leading PGA average driving distances
1) Dustin Johnson (US) - 316.2 yards
2) Luke List (US) - 312 yards
3) Andrew Loupe (US) - 311.1 yards
Tour average: 289.7 yards
Source: PGA Tour
And Davis has now admitted there is a problem with distance. In a wide-ranging interview with US online magazine Golfworld, he said: "My biggest regret would be what has happened with distance.
"It's been the thing, probably more than any, that has been the most harmful to the game. Billions of dollars have been spent to alter golf courses - and for what?"
Davis acknowledges manufacturers do not want to make equipment that is less powerful, and players love to see their ball travel long distances.
"Nobody wants to hit the ball shorter," he said. "On the other hand, increased distance has had a profoundly negative effect on golf courses.
"They've had to expand, they've had to use more resources to maintain. It takes more time to play. It takes more land and construction costs for new golf courses.
"And, in some cases, architectural integrity has been compromised. Are any of these things good?
"I sometimes wish we could just snap our fingers and say: 'We're going to roll the entire golf world back on distance.' But the stark reality is that would be chaotic and would likely not be supported by the masses."
And this is why we should not expect much change in the coming years, despite the overwhelming logic that says a shorter game would make the sport cheaper and more attractive.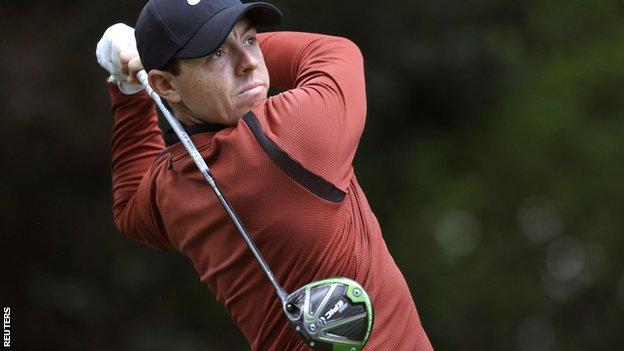 Indeed, European Tour chief executive Keith Pelley argues fans love to see the likes of Rory McIlroy propel drives more than 350 yards. He believes it is a genuine spectacle.
And when fans stand around tournament tees and witness such prodigious hitting, their awe is audible.
Davis, though, believes it is incumbent upon the rules-makers to at least discuss the issue.
"We've really not talked about it," he said. "But with the R&A and the USGA's responsibility to look out to the future, there's a genuine interest to say: 'Maybe we won't get there, but shame on us if we don't at least talk about it.'"
During the lengthy interview, Davis raised a number of issues pertinent to the running of courses at the level of the humble amateur.
In the UK, we are entering a period of the year when our greens start to be shaved to maximise speed, and rough is grown as fairways are narrowed.
From personal experience, these developments tend to be welcomed but, post-round, many club golfers feel beaten by tricky, penal course set-ups.
Davis, who has been laying out US Open courses since 2006, sympathises with those for whom the game is rendered too difficult.
"When I talk to architects, for about 40 years, hard equalled good," he said.
"Now you're definitely seeing that go in the other direction, where fun equals good. These practices of narrower fairways, higher rough, not encouraging play from the proper tees, it's no good.
"Today, people equate fast greens with good greens. But fast greens cost more to maintain. Fast greens are more susceptible to disease.
"Fast greens compromise some of the architectural integrity of great courses. Fast greens have absolutely caused more cases of the yips. And they've hurt pace of play."
Davis also contends that fairway grass tends to be cut too short, leaving tighter lies that make ball-striking and chipping more difficult.
"Growing up, we didn't hear about people skulling chip shots," the 52-year-old said. "Now you hear about the chip yips. So we've been trying to message: 'Keep your fairways drier, but longer.'"
Whether this message is heard by golf clubs of the world remains to be seen.
But on the key issue of distance, Davis has shown he does have ears and has listened to the argument that the ball travels too far.
Furthermore, he clearly accepts the logic. The problem is, it seems too late to do anything about it.