Six-year-old Jack Dunn scores hole-in-one at Bruntsfield Links course
Last updated on .From the section Golf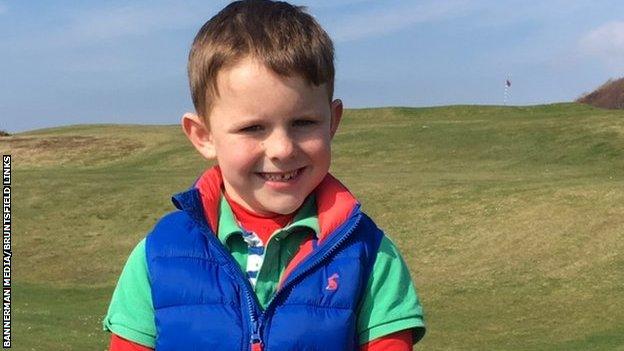 A six-year-old has become the youngest player to score a hole-in-one at Bruntsfield Links - and adhered to the tradition of buying a drink for his fellow members to mark the achievement.
Primary two pupil Jack Dunn holed the 134-yard par-three seventh at the Edinburgh course using his driver.
"It was fantastic," he said. "Hopefully, I will have many more."
Club chief executive Dougie Cleeton added: "It is quite a talking point among our members."
He added: "Jack put the traditional bottle behind the bar - albeit Coke - for everyone to celebrate his success."
The youngster's father Jonathan - a Bruntsfield club member - and four-year-old brother Angus also play golf.
Bruntsfield, which dates back to 1761 and is the fourth oldest club in the world, has been an Open Championship qualifying course and is undergoing a £1m redevelopment later this year.