Solheim Cup: Dates announced for 2019 event at Gleneagles
Last updated on .From the section Golf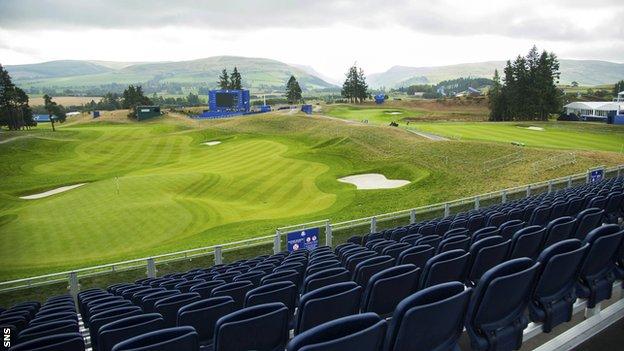 The 2019 Solheim Cup at Gleneagles will be held between 13 and 15 September.
The biennial women's match-play event between Europe and the United States was last held in Scotland in 2000.
"This date will allow the 2019 Solheim Cup to be the highest profile golf event taking place in Europe and the US," said Paul Bush, director of events at Visit Scotland.
"It will also be the highest profile event taking place from a global sports perspective."
The Gleneagles bid was led by Visit Scotland in conjunction with the Scottish government.
Scotland was among 10 countries to submit expressions of interest in the 2019 event and was chosen ahead of Bro Hof Slott in Sweden in the final vote.
The 2017 event will take place at Des Moines in Iowa, United States, between 18 and 20 August.
Solheim Cup winning teams

Germany, 2015:

United States

Colorado, 2013:

Europe

Ireland, 2011:

Europe

Illinois, 2009:

United States

Sweden, 2007:

United States

Indiana, 2005:

United States

Sweden, 2003:

Europe

Minnesota, 2002:

United States

Scotland, 2000:

Europe

Ohio, 1998:

United States

Wales, 1996:

United States

West Virginia, 1994:

United States

Scotland, 1992:

Europe

Florida, 1990:

United States