Oates Vic Open: Laura Davies lets lead slip as Nicole Broch Larsen goes top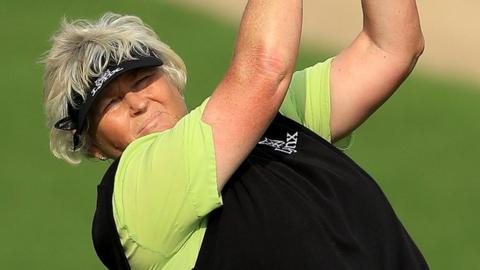 Oates Vic Open second round
-12 N B Larsen (Den); -10 H Clyburn (Eng), S Gal (Ger), W Hillier (Aus), Su Oh (Aus); -9 H-J Choi (Kor), M Reid (Eng); -8 K Kirk (Aus), A Yin (US)
Full leaderboard
England's Laura Davies failed to build on her strong start at the Oates Vic Open after shooting a second-round 76 in Victoria, Australia.
Davies, 53, was six over after 10 holes but three birdies in five holes left her five under for the tournament.
Her compatriot Holly Clyburn carded 69 to finish two shots behind leader Nicole Broch Larsen.
The Dane struck seven birdies and a bogey as she shot 67 to end the day at the top of the leaderboard.