Phoenix Open: Golf's 'Glastonbury' shows new approach can bring big crowds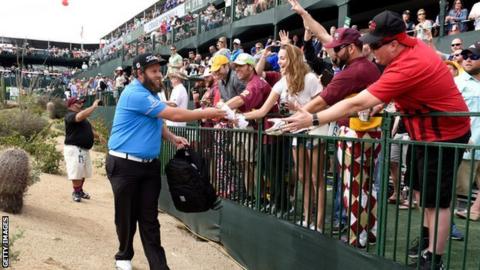 Golf ditches its blazer and loosens its top button when the PGA Tour stops off in Scottsdale. Informality rules, and record crowds pitch up for the raucous Phoenix Open.
No fewer than 204,904 fans were present on Sunday as Hideki Matsuyama continued his astonishing season with victory at the most highly attended tournament on the planet.
The figures are staggering for an event that takes full advantage of the freedom of the Arizona vibe. Last Wednesday's pro-am was watched by 77,906 people, while 655,434 fans turned up throughout the week.
It is more than a routine stop on the PGA Tour. This is a golfing Glastonbury.
After beating Webb Simpson in a four-hole sudden-death play-off, Matsuyama noted: "There is nothing like it in golf. Playing in front of the number of fans and gallery this past week [provides] great motivation.
"I just try to have fun with it, and at the same time keep my focus."
At the heart of the event is the stadium erected around the 178-yard par-three 16th hole, which provides 16,000 seats. Of those, 4,000 are first come first served, creating a stampede from the moment the gates open at 7am on a tournament day.
These people are not golf fans, they are fun-seekers. The beer runs to excess and it is party time.
Visitors tell tales of portable toilets becoming venues for romantic entanglement in an "anything goes" atmosphere generated by a younger than usual demographic.
Stewards have given up all hope of controlling mobile phone use.
Fans actually watching the golf, meanwhile, cheer and boo depending on whether players manage to hit the green with their tee shot. It is as far removed as can be from a traditional golfing environment.
The custom in previous years of golfers chucking gifts to the crowds has been outlawed but this didn't stop England's Andrew 'Beef' Johnston dispensing foam curly fries and Irishman Shane Lowry hurling cans of Guinness to the thirsty hoards.
"It's fun playing in front of the loud crowds," said American Rickie Fowler, who was competing for the ninth time at TPC Scottsdale.
And, given the numbers the event attracts, it is hard to argue against the tournament. Clearly it is thoroughly enjoyed by the spectators and continues to be supported by many of the biggest names on the PGA Tour.
The pedigree of the champion cannot be doubted, either. Matsuyama successfully defended the title he won 12 months ago.
It was his fifth win in his past nine tournaments and he was runner-up in two of the four that he didn't win in this extraordinary sequence - even if the details of the Japanese star's rapid rise might be lost on many of the rowdier spectators.
Few people seem to mind, especially if the crowds take advantage of free breathalyser tests on their departure.
"It's just a very well thought-through golf tournament," said Phil Mickelson, who was playing for the 28th time. "Fun to be part of."
And you can bet that the success of Phoenix is being noted by Keith Pelley, the ambitious chief executive of the European Tour, who craves for his tournaments the sort of attendances generated in Arizona.
But any step taken in this direction has to be carefully trodden. The genuine golf fan cannot be forgotten and there remains plenty to be said for an environment that allows the purist to appreciate the nuances of the game in more peaceful surrounds.
More importantly, an atmosphere cannot be imposed. It has to be organic and authentic.
The unique, rarefied ambience of Phoenix has taken years to evolve just as it has at the Players Championship around the famous island 17th green at Sawgrass.
"I also think if you do it every single week, it loses some of its lure and lustre," Mickelson observed.
"But there is no reason why other tournaments couldn't develop what they have done here, which is make it the place to be for that week and have everybody want to come out and enjoy the experience."
This ties in with Pelley's strategy, as he tries to shift the dynamics of his Tour. We will see more of this ethos next week when the European circuit joins with its Australasian counterparts to stage the World Super 6 in Perth.
Players will compete over 54 holes for the right to qualify for a series of six-hole knockout matches on the final day. In the event of ties, these contests could be settled by sudden death nearest the pin on a specially designed play-off hole.
The idea provides more evidence that the game's administrators are thinking radically to help the professional game compete for its share of the sports and entertainment market.
There is a new generation of younger administrators - not just 52-year-old Pelley, but Jay Monaghan, 46, who has taken charge of the PGA Tour. Already, the event in New Orleans this spring has been turned into a pairs tournament under his watch.
Nevertheless, the game remains driven by tradition. For all the revelry in Phoenix, the polar opposite scenario at Augusta looms large.
Come the Masters in the first full week of April, no-one will be allowed to trot, never mind sprint, to a viewing area. People passing out under the influence or using public loos for romantic liaisons will be swiftly ejected.
Mobile phones will be absent, collars will be neatly buttoned and it will be all about that blazer - the Green Jacket, the most treasured garment in golf.
It's worth remembering that it has been worn by diminutive figures such as Gary Player and Ian Woosnam as well as physical giants like Sir Nick Faldo and Craig Stadler.
After all, golf is a game where one size does not have to fit all and the styling of its tournaments is just another example of the endless variety that constitutes its greatest strength.