Rory McIlroy: Northern Irishman 'resents' Olympic Games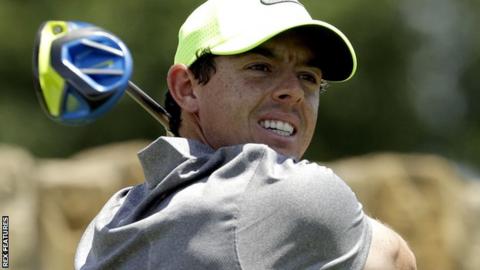 World number two Rory McIlroy says he "resents" the Olympics for forcing him to choose between Britain and Ireland.
The 27-year-old, born in Northern Ireland, opted to represent Ireland, before pulling out of Rio 2016 because of concerns about the Zika virus.
"It put me in a position where I had to question who I am, where am I from," McIlroy told Irish newspaper, the Sunday Independent.
"Whether that's right or wrong, it's how I feel."
When he declared his intention to play for Ireland, McIlroy described himself as "comfortable" with his decision, explaining that it was a logical choice having twice represented Ireland at the World Cup alongside fellow Northern Irishman Graeme McDowell.
However, he now says he felt he would inevitably upset some people whether he chose to represent Team GB or Ireland.
Woods' fame 'unfathomable'
McIlroy says that he does not envy the profile of fellow former world number one Tiger Woods.
McIlroy lives in Florida, USA and regularly plays rounds with American 14-time major winner Woods, and he says he would gladly accept less success if it means maintaining a more normal life away from the course.
"I've played golf with him and said: 'What are you doing tonight? Do you want to come and have dinner with us?' And he can't," McIlroy added.
"For me, that's unfathomable. I could not live like that.
"If someone was to say, 'you can have 14 majors and 70 wins but have to deal with that, or nine majors and 40 wins and stay somewhat the same as you are', I'd take the second option all day."