Russell Knox overcame doubts with wins in China & Connecticut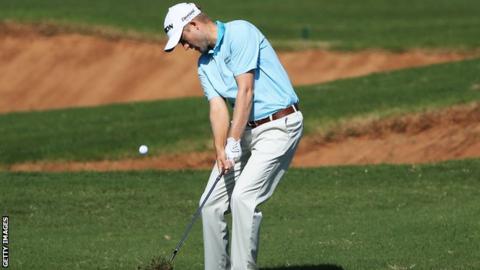 Russell Knox believes he has overcome personal doubts on whether he can beat the world's best and win tournaments.
Scotland's leading golfer enjoyed his "best year" to date in 2016 with two season victories, including a World Golf Championship win in China.
But Knox points to the second title he won last year - the Travelers Championship - and a 12ft putt at the last hole as a turning point.
"I had doubts in myself, that winning's going to be difficult again," he said.
"I mean really hard. So the win in China was enormous. Getting that second win, I put pressure on myself to validate that my first win wasn't like a fluke four days.
"Making that putt after being in exactly the same situation in Mexico the week after China, and making bogey and then losing to Graeme McDowell in a play-off, that really proved to myself I'm good enough to do this more frequently.
"That is going to be a huge putt in my career."
'I've proved what I'm capable of'
Since his success in Connecticut, Knox has enjoyed three top 10 finishes.
He tees off for the first time in 2017 later at the PGA Champions of Champions event in Hawaii and the world number 18 intends to play this year without any fear.
"My Achilles heel in the past few years has been the amount of top 10s," Knox told BBC Scotland. "When I've played really well, I've had a chance to win. If I've not quite been there, I've finished maybe top 25.
"One of my main goals was to turn those into top 10s. To start with three straight out the gate, I was very happy and hopefully that can continue.
"2016 was my best year so far but I'm excited to see what happens. Can I do it again? Can I be even better? I can't wait to find out.
"I've proved to everyone and to myself what I'm capable of. Now it's time to hammer down and really see how good I can be. I look at it like I've got no pressure on me now."