Franklin Templeton Shootout: Kelly & Stricker take one-shot lead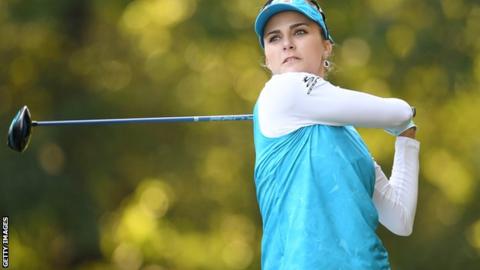 Franklin Templeton Shootout, round one
- 16 Kelly & Stricker; -15 English & Kuchar; -13 Howell III & Sabbatini; -12 Chappell & Kisner, Donald & Knox, Dufner & Snedeker; -11 Hoffman & Horschel; -10 DeChambeau & Thompson; -9 Berger & Choi, Weir & Woodland, O'Hair & Perry, Kaufman & Thomas
American veterans Jerry Kelly and Steve Stricker lead the Franklin Templeton Shootout in Florida by a shot after hitting 16 under in the first round.
Former champions Harris English and Matt Kuchar are second, while 2012 runners-up Charles Howell III and Rory Sabbatini are third on 13 under.
Lexi Thompson, only the second woman to play in the event, and partner Bryson DeChambeau are eighth on 10 under.
Kelly, 50, and Stricker, 49 are the oldest team in the field.
The 12-team event, the last PGA Tour event of the year, is hosted by former world number one Greg Norman at the Tiburon Golf Club.
It features three rounds played in differing strokeplay formats over three days, with the pairs playing a scramble on Thursday and alternate shots on Friday.
Thompson, 21, the world number five, is the first female professional golfer to compete in the event since Annika Sorenstam in 2006.
England's Luke Donald and Scotland's Russell Knox are tied for fourth on 12 under.