Danny Willett apologises to Lee Westwood over World Cup of Golf withdrawal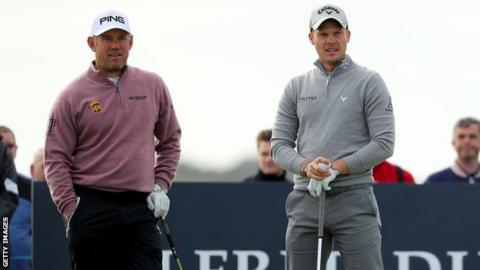 Danny Willett has apologised to Lee Westwood after his withdrawal from the World Cup of Golf later this month cost his compatriot a place in the event.
The pair were due to play together, but the withdrawal of Willett and the next eligible player Justin Rose, left Chris Wood as next in line.
Under tournament rules, he can choose his partner and he opted for fellow Ryder Cup debutant Andy Sullivan.
"Westy has been pretty good about it," admitted the Masters champion.
Willett pulled out of the event from 24-27 November at Kingston Heath in Melbourne because of a back problem.
"We were both looking forward to going down there and pairing up," he added. "I think it was a bit unfair for that tournament to kind of go about it the way they did.
"I think you just then go down the list and see which guy potentially wants to play. With such short notice, I don't see why they have switched it around and made it two brand new guys.
"Obviously when the guys have booked their flights I think it's not quite right just because one guy pulls out that the other guy has to kind of withdraw without having a say in it."