Graeme Storm keen to enjoy golf after European Tour reprieve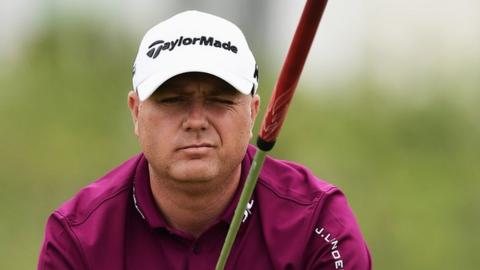 Hartlepool's Graeme Storm plans to focus on simply enjoying his golf next year after receiving a European Tour reprieve for 2017.
Storm finished 100 Euros short of the prize money needed to guarantee his spot for next year.
However, he kept his card after world number eight Patrick Reed's points were deducted because he did not play the minimum five tournaments required.
"I'm relieved. It's been a topsy-turvy time," 38-year-old Storm told BBC Tees
"The rules are the rules - if you don't play your numbers then you know you'll come out of the order of merit and lose your membership.
"[In 2017] I just want a fast start, the last couple of years I've set goals and targets, but not achieved them.
"Now I want to play golf and enjoy it, not push too hard and give myself a headache trying to reach goals."
You can hear more from Graeme Storm on BBC Tees from 18:00 GMT on Monday, 7 November or on the Radio Player.