Andy Sullivan: Ryder Cup golfer would like more British events on European Tour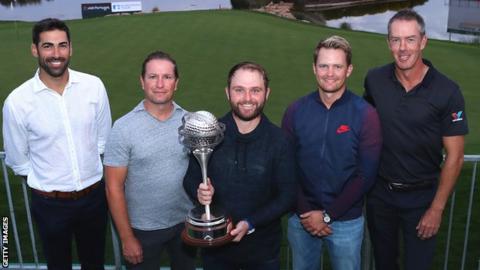 Ryder Cup player Andy Sullivan has told BBC Sport that he would like to see a return of more British events to the European Tour.
The Tour, which now hosts events in South Africa, Australia, Malaysia and the Middle East, hosted six events on the British mainland in 2016 - of which only two were in England.
"It's a shame," said the Nuneaton-based 29-year-old.
"It would be nice to see more events in England, and in Britain as a whole."
He added: "It would be great to get the Welsh Open back and Gleneagles. And then there's Forest of Arden or The Belfry, back in the Midlands.
"They're two great locations. I'm hoping we could bring them back, then I could stop in my own bed for the week.
"Obviously it would require sponsors, but it's so nice to be at events like the British Masters. The crowd come out in their droves and it's good for the players to perform in front of such numbers."
Three events are scheduled to be played in England in 2017 - the annual PGA Championship in May, the 146th Open Championship at Royal Birkdale in July and the British Masters at Close House in September.
Champion Sullivan's return to Portugal
Sullivan's appearance at the British Masters at The Grove in Hertfordshire was his first appearance since being part of the losing European side on his Ryder Cup debut at Hazeltine.
He will defend his Portugal Masters title, which he won last year by nine shots, at Vilamoura starting on Thursday.
It was one of three European Tour successes he enjoyed in 2015, his breakthrough year.
A third-round 67 at the Watford course was the highlight of a tournament in which he finished in a tie for 41st.
"It was a chance to sharpen up for my defence in Portugal," he said. "Tee to green, I'm playing really well. It's just a case of bringing all the little things together and holing a few putts. Then I'll be up on the leaderboard again.
"It was disappointing what happened at the Ryder Cup, but it was still a massive sense of pride for me just to make the team.
"I feel like I've learned a lot and that it has given me a lot of clarity and drive to go on and achieve big honours in the game. I definitely want to be there in France when it comes around again in 2018.
"Three wins in one season was fantastic last year," he added. "That's what got me there. This season has not been quite as prolific, but it has still been solid and you always want to get better."