Ryder Cup 2016: Officials to remove disruptive fans from course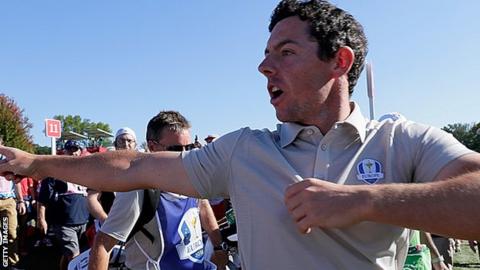 Ryder Cup officials have said they will remove disruptive fans from the course on the final day at Hazeltine.
Europe's Rory McIlroy asked for a spectator to be ejected on Saturday after he said he was verbally abused.
Messages asking spectators to report any disruptive behaviour have been displayed on scoreboards.
"The Ryder Cup is about having a spirited passion for not only the victory, but for the game of golf," the PGA of America said.
McIlroy said he was "unsure" if the spectator had been removed from the course but the atmosphere had spurred him on.
"We are encouraging all spectators on Sunday to be passionate and support their team in a way that is respectful to those around them, the players, and the Ryder Cup," the PGA added.