Jim Furyk shoots first 58 in PGA Tour history at Travelers Championship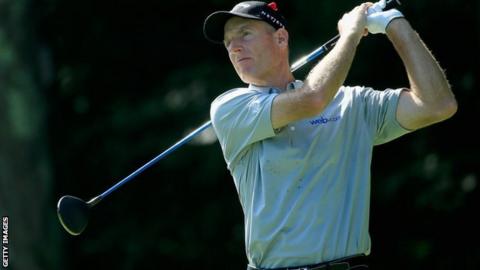 Jim Furyk became the first player in PGA Tour history to shoot a round of 58, achieving the feat at the Travelers Championship in Connecticut.
The 46-year-old American hit a total of 10 birdies and an eagle to shoot a 12-under-par round.
Furyk was already one of six men to have hit a sub-60 total for 18 holes.
Despite his record round, Furyk ended up finishing in fifth place, three shots behind winner Russell Knox of Scotland.
Furyk told Sky Sports 4: "It's pretty cool.
"A million and a half rounds played in the history of the PGA Tour and you look at the great names ahead of me. It's humbling - to stand alone at 58 is really a cool accomplishment.
"I never thought I'd have the opportunity to shoot 59 so once we accomplished that goal I said, 'I had my one chance, I was able to go ahead and birdie the last hole and do it, it'll probably never happen again', and lo and behold, I made the turn today and said, 'Here we go again'.
"It's fun to break that barrier and be the first one."
Furyk's record round
1
2
3
4
5
6
7
8
9
Par
Birdie
Eagle
Birdie
Par
Birdie
Birdie
Birdie
Birdie
10
11
12
13
14
15
16
17
18
Birdie
Birdie
Birdie
Par
Par
Par
Birdie
Par
Par