BBC Sport - Olympics: Rio 2016 'big deal' for Padraig Harrington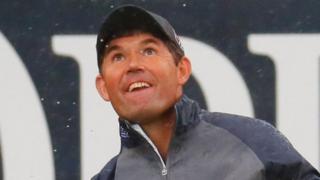 Olympics 'a big deal' for Harrington
Three-time major winner Padraig Harrington says competing in the Rio Olympic Games for Ireland next month will be "a big deal" for him.
A number of leading players, including the current world top four, have opted not to compete at the inaugural golf competition at the Games, with several citing fears over the Zika virus as a reason for not taking part.
On Tuesday, Rory McIlroy said he would "probably watch the Olympics, but I'm not sure golf will be one of the events I'll watch".
However, Harrington told the BBC: "I've won three majors and winning a fourth major would be nice, but it doesn't really change anything. Winning an Olympic gold medal would be a significant contribution to my CV."