The Open 2016: Rory McIlroy lets rip before a shot is even played

By Tom English
BBC Scotland at Royal Troon
Last updated on .From the section Golf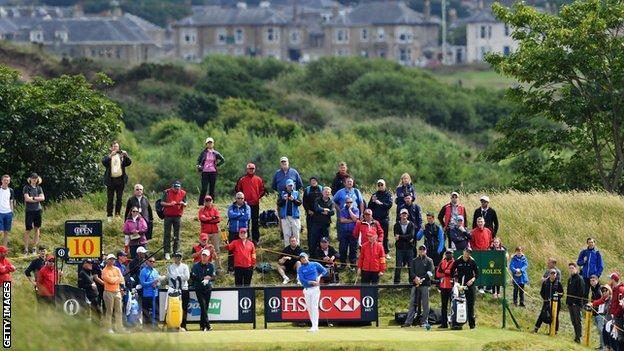 It was just after 10am on Tuesday when Masters champion, Danny Willett, walked into the room at Troon and had a pop at the Olympic Games refuseniks in his sport. Took aim. Direct hit. Clinical.
Willett is a committed member of Team GB and has little truck with those superstars - including the top four players in the world, Jason Day, Dustin Johnson, Jordan Spieth and Rory McIlroy - who have cited the Zika virus as the whole, or a part, of the reason why they are not prepared to compete in Rio.
"You've got more chance of getting malaria in South Africa than you have of getting Zika when you go to Rio," said Willet. "If there was an Olympic Games down in Johannesburg, would guys pull out because of malaria?"
If there was a Claret Jug for rhetorical questions, Willett would be a two-time major champion right now. At interview's end we left with a story in the bag. And that meant something. Stories do not come around all that often in the preview days to an Open.
Everybody is on their guard. Nobody says anything. Seven years ago, before the Open at Turnberry, Sandy Lyle embroiled himself in a row with Colin Montgomerie and that was the last time there had been anything resembling controversy in this week of golfing weeks.
McIlroy 'No Ringo Starr'
On Tuesday, the stories came thick and fast. McIlroy entered the room at little before 1.30pm. The Northern Irishman was asked a throwaway question about drug testing in golf.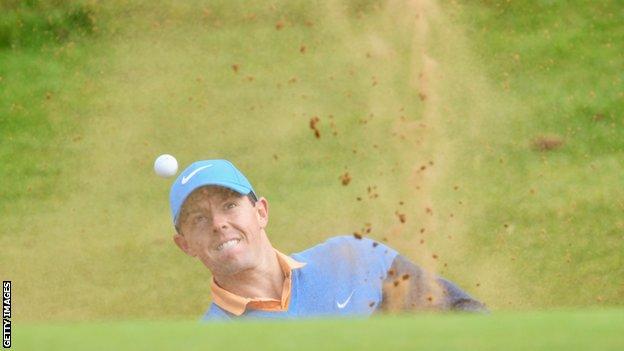 Normally, golfers run a mile from the drugs debate. It spooks them better than any ghost or ghoul. McIlroy embraced it. He revealed that the Olympic Games testers had taken just one urine sample from him this year. No blood test, just urine and just one.
"On average I probably get tested four to five times a year (including tests conducted on the PGA Tour) which is very little compared to the rest of the Olympic sports. I've gotten to know a lot of athletes over the years and whether it's coming to their houses and doing blood and urine (tests), I think drug-testing in golf is still quite far behind."
Then McIlroy cranked it up a notch. "I mean, HGH (the banned Human Growth Hormone), you can't really pick it up in a urine test. I could use HGH and get away with it. Blood testing is something that needs to happen in golf. If golf wants to stay in the Olympics it has to get in line with other sports."
That's a four-time major champion saying that he could be doping and that the guardians of the game would not know about it. He utterly trashed his sport's record in the battle against doping.
There was more from McIlroy, though. Much more. At one point he was asked about golf's Big Four - Day, Johnson, Spieth and himself. The questioner put it to him if these guys represent golf's equivalent of The Beatles then McIlroy was in danger of becoming Ringo Starr.
McIlroy did not appreciate the reference, politely reminding everybody that he has four majors. That's as many as John, Paul and George put together. McIlroy was composed, but you could tell he was angered.
Maybe the Ringo question was the moment that sparked his deconstruction of the entire Olympic golf movement. Or maybe it was the barrage of flak that has come his way since announcing that he's not going to Rio.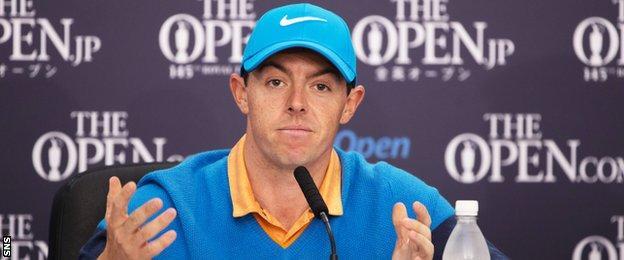 Either way, McIlroy had had enough.
"I don't feel like I've let the game down at all," he said, when pressed on his own withdrawal from the Games. "I didn't get into golf to try and grow the game. I got into golf to win championships and win major championships and all of a sudden you get to this point and there is a responsibility on you to grow the game - and I get that.
"But at the same time that's not the reason I got into golf. I got into golf to win. I didn't get into golf to get other people into the game."
This was odd stuff from McIlroy. It actually flew in the face of so much of what he has done and said over the years, the importance he places in inspiring young golfers. In a fit of pique, he came across as selfish and uncaring, a star who was only in it for himself.
Would he watch the Olympic golf? "I'm not sure," he replied. If not golf, which events would he watch? "Probably the events like track and field, swimming, diving - the stuff that matters."
The stuff that matters.
Those words will have come as a kick to the solar plexus of all those who have campaigned for years for golf's inclusion, who have implored the game's finest players to buy into Olympic golf for the good of the game.
Now one of the sport's great marquee acts had just destroyed the idea. In that moment McIlroy was more Keith Moon than Ringo Starr.
'Hardest' decision
In between Willett and McIlroy you had Jordan Spieth, a player who walked into the interview room like a man walking to the gallows. Having announced his withdrawal from the Olympics on Monday, Spieth knew what was coming on Tuesday.
He was thrown a soft-ball to begin, then looked at his audience and said: "I can already see by far that's going to be easiest question I receive."
Cue laughter, cue inquisition.
In recent months Spieth has played tournaments in Ohio and Pennsylvania, where incidence of Zika have been recorded. He lives in Texas, one of 46 US States that has reported cases of Zika.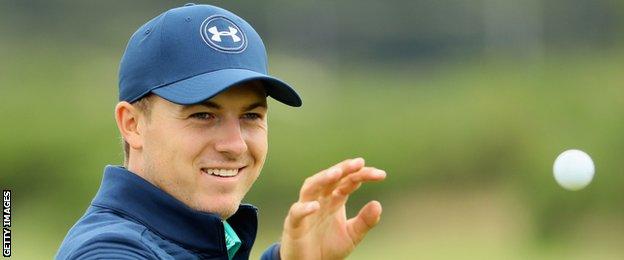 "Health concerns were my reason," he said. "This was probably the hardest decision I've ever had to make in my life. This was something I very much struggled with."
Spieth said he had agonised over his Olympic decision in a way that none of us would understand. He said he was a "huge believer in Olympic golf, a huge believer in playing for my country." He knew there was a contradiction between word and deed, but there was nothing he could do about that.
"They (the public) are not in my shoes. Many, if not all of you, would have made the same decision I made if you were in my shoes. Whether you believe it or not, so be it. This is something that was very, very challenging to me."
Spieth stressed that it was not just the Zika virus that put him off the Games, it was health concerns as a whole. "That (Zika) is not the only one," he said. "I'm not specifically pinpointing any one thing in my health concerns."
During his time in the media centre, Spieth was asked 20 questions and 14 of them were about the Olympics and his angst about not going there. He said it was a tortuous decision.
As he got up to leave somebody told him that he had a major championship to prepare for. "There's a golf tournament on this week?" he said in jest.
On Thursday, yes. On Tuesday, it was dig and counter-dig. Golf, but as not as we usually know it.