BBC Sport - Liz Young prepares for Women's British Open at seven months pregnant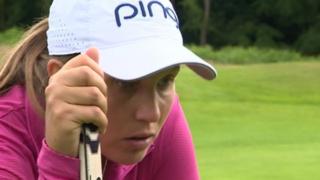 Expectant mother Young ready for Open
British golfer Liz Young is preparing to take on the world's best players at the Women's British Open, but the 33-year-old from Hampshire will have more than just her clubs to carry round the course at Woburn from 28 July.
Young will tee off at seven months pregnant, having not originally planned to take part ahead of her maternity leave.
But, after a late surge in form confirmed her qualification, she admitted it was too good an opportunity to miss.