Rio Olympics 2016: Taylor critical of golf withdrawals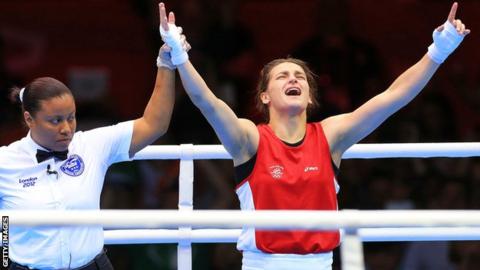 London 2012 gold medallist Katie Taylor has questioned the motives of golfers who have pulled out of the Rio Olympics citing the Zika virus.
Irish trio Rory McIlroy, Shane Lowry and Graeme McDowell have withdrawn.
"I wonder what excuse they would have made if there was no virus," tweeted the Irish boxer after world number one Jason Day became the latest to opt out.
"More chance of him getting killed by a spider in Australia than getting infected by the Zika virus."
Taylor will defend her Olympic lightweight title in Brazil later this summer.
Players pull out
Australian Marc Leishman, Fiji's Vijay Singh and South Africa's Branden Grace have also pulled out of golf's first Olympics since 1904 because of concerns over Zika.
The virus has been linked to brain defects in newborn babies.
Irish Olympic golf team captain Paul McGinley is disappointed with the withdrawals but respects the decisions of McIlroy, McDowell and Lowry.
"I agree it doesn't particularly reflect well on golfers when they seem to be the only ones withdrawing but when it is for their own personal reasons, we have to respect that," he told RTE.
"The risk is very, very, very small but ultimately it's a risk they're not willing to take."
Harrington support
Three-time major winner Padraig Harrington, who is set to take one of the two Irish places available, understands his colleagues' position.
"I known there has been a lot of criticism, but most of the golfers are married with families, or with families on the way, whereas 99% of the athletes going to the Games will be single," he said.
"When you're married, there is more than just one person to be considered.
"The Olympics comes every four years for an athlete. For them it's the be-all and end-all, whereas we'll have 16 majors in the time between the last games and this one."
The second Irish spot is likely to go to Paul Dunne or Web.Com Tour player Seamus Power.