Scottish Open: Jimmy Gunn welcomes chance to shine at Castle Stuart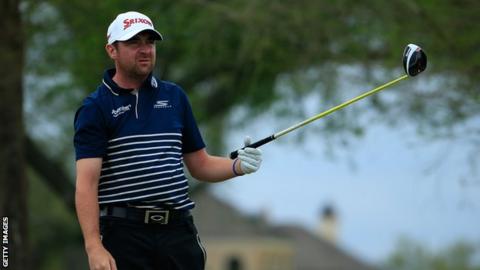 Playing in front of a rare home crowd and the chance of qualifying for The Open will give Jimmy Gunn plenty of motivation at the Scottish Open.
The Arizona-based Scot, originally from Dornoch, received a sponsor's invite to take part at Castle Stuart from 7 July.
"It's going to be great," Gunn told BBC Scotland. "It will be fun to play in front of my own family again.
"I should have a good following. I love the course and I love playing golf in Scotland so I'm looking forward to it."
The Scottish Open has four qualifying places available for The Open, which is being held at Royal Troon from 14-17 July.
Places go to the leading four players who are not otherwise exempt and who finish in the top 12.
Gunn currently plays on America's Web.com tour, which is a pathway to reaching the PGA Tour.
The 35-year-old was disappointed to miss out on last year's Scottish Open after an impressive display at the 2015 US Open, where he finished joint-top Scot, tied 27th with Marc Warren.
But Gunn is delighted to be competing this time in Inverness, which is 40 miles from where he grew up in Dornoch.
"I think I've had a thousand text messages for tickets already," he said.
"We'll see how many I can get my hands on, but I don't think I can please everybody."
Also competing at the Scottish Open is one of Gunn's close friends - world number 26 Russell Knox - who is from Inverness but lives in Florida.
"We don't get to play that much golf together," said Gunn. "He lives on the east coast and I live on the west, and we're on different tours.
"So it'll be nice to hang out for the week and hopefully the two of us can have a good week.
"My goal for the end of the season is to be up there playing with Russell on the PGA Tour.
"I've been working on changing a few things with my swing.
"When it's on, it's really on and, when it's off, it's not so good. I'm just trying to get things more consistent."