Rory McIlroy to change putting technique for WGC-Cadillac
Last updated on .From the section Golf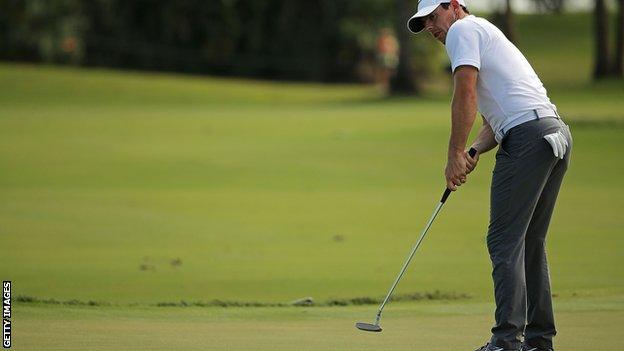 Rory McIlroy intends switching to the "cross-handed" putting method as he tries to improve his form.
The world number three posted a video on social media of himself gripping his putter with his left hand below his right during practice.
McIlroy plans to use the technique at this week's WGC-Cadillac tournament.
"I feel like it's something I'm going to stick with, regardless of what the outcome is tomorrow, or this week or next week," he said.
McIlroy missed the cut at the Honda Classic last week and is making the switch before the Masters, which takes place between 7-10 April.
"It's a drill I've been doing for a while," said the 26-year-old.
"I feel like my left hand controls my putting stroke and I felt over the past few weeks my right hand was becoming a little bit too dominant."
He added: "It's one of those things where the drill started to feel a little bit better than the real thing, so I'm just going to stick with it."