Irish Open coverage on BBC Northern Ireland
Last updated on .From the section Golf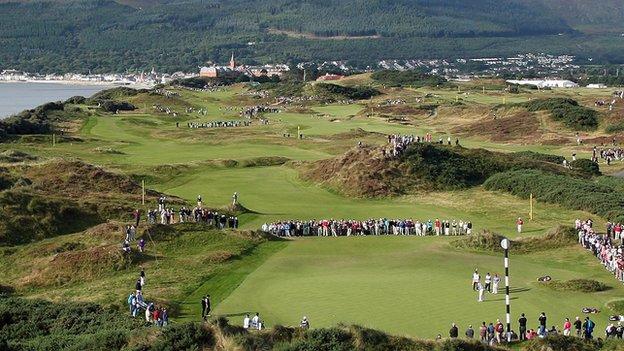 As the Irish Open returns to Northern Ireland, BBC Northern Ireland will be there to bring golf fans coverage of this event across TV, radio and online.
Each night during the tournament, Stephen Watson will present a 60-minute highlights programme after the BBC News on BBC One NI which will be packed full of that day's action from the Royal County Down Course as local major champions Rory McIlroy, Graeme McDowell and Darren Clarke are joined by a star-studded field for the competition.
Stephen Watson says: "I have been very fortunate to cover many of golf's major tournaments around the world, but to be fronting BBC Northern Ireland's coverage of such a large event right on our doorstep is something extremely exciting.
"Royal Portrush in 2012 captured a very special moment in Northern Ireland's sporting history and I expect Royal County Down to be another unique experience, because of the world class field Rory McIlroy has helped attract to play the famous County Down links.
"It's fantastic that we can show you all the action from the Irish Open on BBC One NI in four hour-long highlights shows, plus bring you a week of live coverage from Newcastle on BBC Newsline."
BBC Radio Ulster will have coverage of the build up to the event from Wednesday 27 May at 18:30 BST as Joel Taggart presents a preview programme ahead of what promises to be a very special event.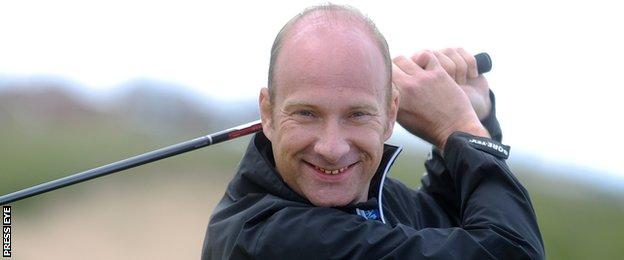 Joel will also be live from Newcastle throughout the four day competition with an Irish Open Special at 18:30 on Thursday 28 May and Friday 29 May and live with Michael McNamee on Saturday 30 May for a special Summer Club from 15:00, where they will be hearing from a whole host of celebrities and big names from the golfing world.
Joel will also be there on the final day as we hear who will be lifting the trophy at this prestigious competition on BBC Radio Ulster from 18:00.
Throughout the week Joel will be joined by golf coach Johnny Foster and will be hearing from all the players who have been making the headlines throughout the tournament.
On Saturday 30 May, BBC Radio Ulster will also have a special outside broadcast from Newcastle with John Toal from 11am and later in the afternoon; listeners will have another chance to hear A Round With Anne Marie from 13:05.
Whilst the great and the good of the golfing world are competing in Newcastle for the Irish Open Golf Championship, Anne Marie McAleese will join some special guests, including snooker legend Dennis Taylor and singing star Rose-Marie, for a round of golf at Belvoir Park Golf Club.
The special guests will share their stories about golf and life in general as they try to stay out of the bunkers and on the fairway.
Throughout the tournament fans can keep updated with all the action at bbc.co.uk/sportni
BBC NI at The Irish Open at a glance
Wednesday 27 May
Irish Open Special, BBC Radio Ulster, 18:30 BST
Thursday 28 May
Irish Open Special, BBC Radio Ulster, 18:30
The Irish Open, BBC One NI, 22:45
Friday 29 May
Irish Open Special, BBC Radio Ulster, 18:30
The Irish Open, BBC One NI, 22:35
Saturday 30 May
The John Toal Show, BBC Radio Ulster, 11:00
A Round With Anne Marie, BBC Radio Ulster, 13:05
Summer Club, BBC Radio Ulster, 15:00
The Irish Open, BBC One Northern Ireland, 22:35
Sunday 31 May
Irish Open Special, BBC Radio Ulster, 18:00
The Irish Open, BBC One Northern Ireland, 22:30