Tiger Woods return: Has 14-time major winner still got it?

By Iain Carter
BBC golf correspondent
Last updated on .From the section Golf221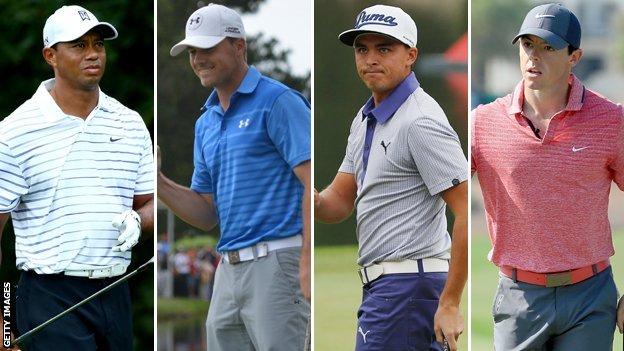 Tiger Woods returns from injury this week to an ever-changing golf landscape compared with the one that he once so thoroughly dominated.
It was there that he finally accepted he had not fully recovered from the back surgery he underwent in March this year.
Valhalla also bore witness to back-to-back major triumphs for Rory McIlroy that sandwiched a World Golf Championships victory in Akron.
That glorious summer spell for the Northern Irishman was reminiscent of Woods at his best and signalled the start of a new dawn for the game. The Tiger era was being superseded, with McIlroy the man to provide the benchmark.
This is the harsh reality for Woods as he begins his latest comeback in his own 18-man challenge tournament at Isleworth this week.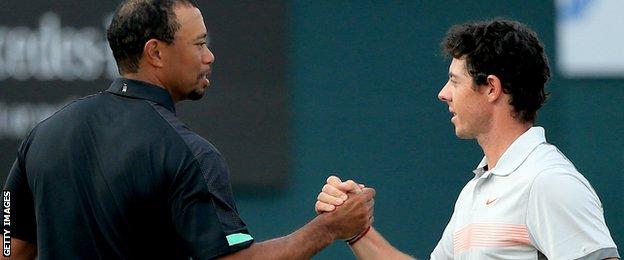 There is no doubt that his return injects a renewed buzz to the game. He remains golf's biggest personality and driver of ratings.
But as a golfer he has been at best an also-ran for more than 15 months - and a non-runner for much of that period. His most recent PGA Tour win came in Akron in August 2013.
In 2014 he has completed only three 72-hole tournaments, acquiring 6.57 world ranking points. McIlroy, meanwhile, has amassed 565 points.
Woods may be back, but it seems highly implausible that the man who turns 39 at the end of this month can quickly re-establish his domination of the game.
It will be fascinating to see if he will continue to use his public utterances to try to re-establish his once impregnable aura.
His usual contention that he only ever turns up to tournaments with the intention of winning has an increasingly hollow ring. Fields are packed with players not cowed by his mere presence.
They are not likely to be intimidated by words borne out of misplaced confidence. Nowadays Woods's only option is to create the intimidating impact he desires with his clubs.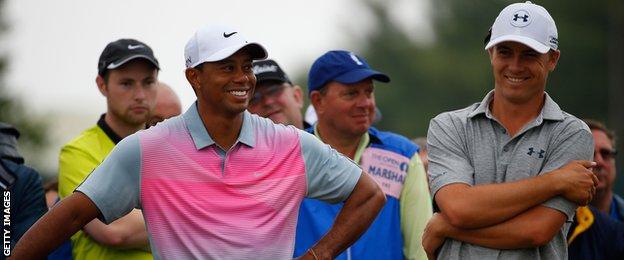 It's not just McIlroy, who has now ended the most successful season of his career, who has changed the landscape. The likes of 21-year-old Jordan Spieth, who thrillingly won the Australian Open last weekend, are not scarred by the years of Woods domination.
When he was in pomp and winning the bulk of his 14 majors, Woods was among the very longest drivers in the game. His relative inaccuracy from the tee was compensated for by his prodigious length.
He had a brilliant short game and uncanny knack of knowing when to press the accelerator and close out victories.
Those powers have long since deteriorated. His tee shots remain inaccurate but no longer carry the distance of old, undermining his entire game.
Never mind the dramatic fall from grace that followed crashing his car into a hydrant five years ago. Woods hasn't looked the same since conceding the lead to YE Yang in the 2009 PGA Championship.
He has squandered every subsequent opportunity to add to his major tally.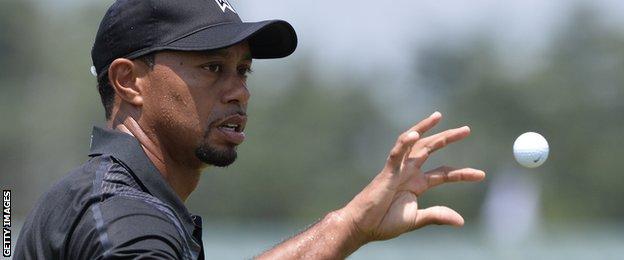 There have been plenty of Tour wins, usually on courses where he always succeeds, but he - and we - measure him on performances in the biggest four events.
These are the ones that define careers - the Masters, Open, US Open and PGA.
McIlroy has yet to acquire the serial winning habit to the extent that Woods once enjoyed. Otherwise, in recent weeks, he would have knocked off victories in the Alfred Dunhill Links and Dubai's season-ending Tour Championship.
But there appears no way that Woods can live with McIlroy's power these days as he seeks to complete a career grand slam at the Masters next April.
The deposed top-dog faces a huge challenge competing with the generation that the current world number one leads.
That's not to say that Woods won't win again. Golf has rarely known a player of his immense competitive instincts. Given his tenacious recovery from this latest injury, we can assume they remain firmly intact.
"Tiger and I both went through rehab with our injuries at a similar time," noted his Olympic skier girlfriend Lindsey Vonn.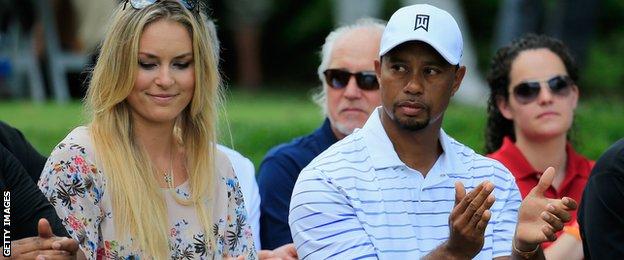 "We were both in the gym together, pushing each other and motivating each other, both frustrated.
"I think we helped each other a lot through that time. I drew a lot of inspiration from him and I think he does the same with me."
Woods has a new "swing consultant" in the shape of the unheralded Chris Como, who comes from a bio-mechanical background.
Much of the new coach's brief will centre around injury prevention, which is undoubtedly a key priority.
But within that backdrop, what kind of game can Woods fashion? Will it be one that can consistently compete with the McIlroys, Spieths and Rickie Fowlers - who form the vanguard of the current generation?
Provided he stays fit, Woods will undoubtedly carve out future major opportunities and he may convert a couple of them.
But overhauling Jack Nicklaus's record of 18 majors (four more required to tie the great man) seems a distant prospect.
Woods' major victories

Masters (4)

1997, 2001, 2002, 2005

PGA Championship (4)
1999, 2000, 2006, 2007

US Open (3)

2000, 2002, 2008

Open Championship (3)
2000, 2005, 2006
Woods has always insisted the record remains within his compass, but the reality is that he has a long way to go before he adds to his most recent major victory which came at the 2008 US Open.
This week we get a first glimpse of where his game stands. More significant will be his performances when he returns to the PGA Tour next February.
He would do well to play down his initial chances and diminish expectation levels for instant success.
But that's never been the Woods way. It will be interesting to see whether he has acquired a more realistic perspective.
Indeed the words and deeds of a player now ranked 24 in the world will be as fascinating as ever as he makes a welcome return to the game.