Tom English: The Scots who took golf to America

By Tom English
BBC Scotland
Last updated on .From the section Golf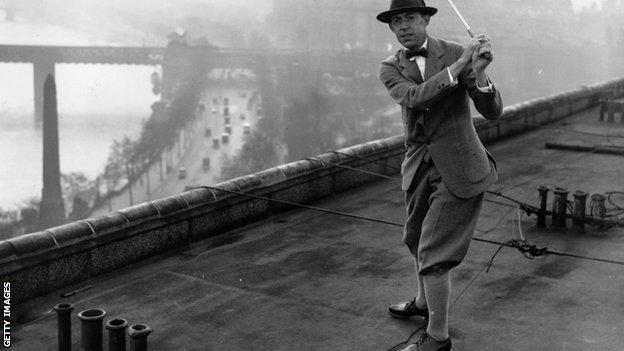 John Reid, like Andrew Carnegie before him, left his native Dunfermline to seek a new life in the new world.
He settled in Yonkers in New York. On the morning of February 22, 1888 a cargo of golf clubs and balls arrived from Tom Morris's place in St Andrews.
Reid told his friends to meet him on the old cow pasture opposite his house, where three golf holes, about 100 yards long, were laid out. Rudimentary as it was, it was the beginning of organised golf in America.
On Thursday - and the following two Thursdays - at 1.30pm on BBC Radio Scotland we explain how it happened. In a three-part series we explore Reid's life and the lives of the hundreds, if not thousands, of Scots who followed in his wake and built the game in America from the bottom up.
Reid created the first golf club in America, calling it Saint Andrew's. He had some help from a second Dunfermline man, Robert Lockhart. When cash was needed to move to a new property, a third transplanted son of Dunfermline stepped in and made it happen.
Well, Andrew Carnegie was hardly short of a buck or two.
The golfing pioneers swept in to America from all corners of Scotland. Many of them led unspectacular lives as club professionals and teachers and course designers. They went about their work at the grassroots while others operated at a more exalted level.

Willie Anderson from North Berwick remains the only man in history to have won three consecutive US Opens. He lived in the same North Berwick tenement as Fred McLeod who also won the US Open.
After the Anderson era ended in 1905, Alex Smith took over. Smith was one of five Carnoustie brothers who became professionals in the States. Willie Smith won one US Open, Alex won two. They remain the only set of brothers in history to have won the US Open. And while history records that the youngest Smith, Mac, never won any majors he was still regarded as the best of the lot.
The Smiths didn't just win tournaments, they built foundations. And they were not alone. In every state in the first decade of the new century and for some time after, the Scots created the game.
They sparked the interest of the locals and then taught them how to play. Many of the great American players of the era, professional and amateur, had Scots either coaching them or influencing them in some shape or form.
Bobby Jones and Francis Ouimet, Gene Sarazen and Walter Hagen and more all spoke about the importance of Scots on their road to greatness. The game spread into the world of celebrity. Musselburgh's Willie Dunn arrived in America in 1891 and befriended John D Rockefeller and Buffalo Bill Cody and had Teddy Roosevelt and WK Vanderbilt as students.
The writer Herbert Warren Wind said that Scottish golfers had, in that period, become "as permanent in the American scene as Swedish masseurs and Chinese laundrymen".
Our research for the documentaries took us all around Scotland, but also to Reid's home from home in New York. To this day, he is referred as the father of American golf.
We heard stories of many families, the Maidens of Carnoustie among them. Stewart, or "Kiltie" as they called him in America, played off a handicap of plus one, but he is remembered not as a golfer but as a mentor to a one of the game's celebrated players.
Kiltie was an inspiration to Bobby Jones in the same way as another Scot was one of the driving forces behind the great Francis Ouimet, a young amateur from Boston who won the 1913 US Open, beating Harry Vardon and Ted Ray in a championship that has been immortalised by Hollywood.
"Whatever progress I have made in golf," said Ouimet years later, "I owe to Charles Burgess from Montrose."

After John Reid there was a second wave of transplanted Scots - among them, Donald Ross, the creator of Pinehurst and hundreds of other courses in America - and a then a third wave. Tommy Armour and Bobby Cruickshank had been heroes in World War I. Their stories in battle were harrowing, but their golfing lives were nothing short of spectacular.
Armour was from Edinburgh, Cruickshank from Grantown-on-Spey. They were united by a love of the game and a love of mischief. Armour became a three-time major winner. He made a fortune then lost it in the Wall Street Crash, then made his fortune all over again.
He became one of the most highly-paid golf tutors of the age, doling out advice to the rich and famous while sitting in a deckchair at the Boca Raton club in Florida drinking gin. One of the destinations on our journey in these documentaries was Armour's first golf club in Edinburgh - Braid Hills. Sitting in a cabinet in the bar is the putter he used to win the 1927 US Open at Oakmont.
These remarkable pioneers all became naturalised Americans and, at times, you wonder if they are celebrated more in their adopted land than they are in the country of their birth. In the documentaries, we try to put that straight.
The first part of 'The Scots who Took Golf to America' will be broadcast on Thursday, 11 September on BBC Radio Scotland at 13:30.