Rory McIlroy hungry for strong finish to best ever season
Last updated on .From the section Golf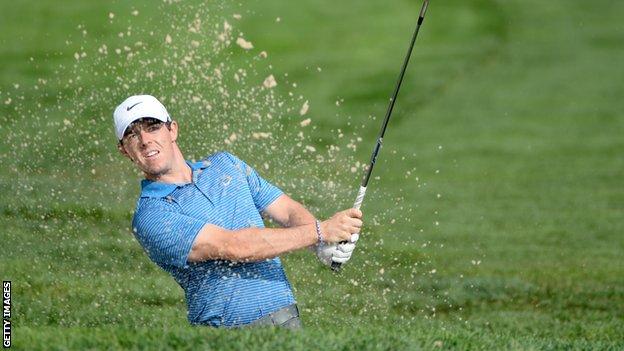 Rory McIlroy says his best ever season 'deserves' a strong finish as he prepares for the first of the PGA tour play-offs in New York.
The world number one will be in action on Thursday for the first time since winning the US PGA Championship, his second major triumph of the year.
McIlroy is still hungry for more titles and wants to finish the year on a high.
"For me, it would be gratifying to know I finished the season off well and the way it should be finished," he said.
McIlroy has won the last three tournament he has entered, including the back-to-back major victories at the Open and the US PGA Championship, which has propelled him back to the top of the world rankings.
"I think it would be a shame if, I'm playing this good golf, and I could just say 'I've had a great year, it's been an awesome summer' and not really work hard, but I want to finish the season well.
"I want to be up there in contention, week in week out. I feel like the season I had deserves a finish like that so I'm going to grind out every week that I can.
"It's a big four weeks coming up.
"One of the only things I haven't achieved in this game is a FedEx Cup. I came close in 2012. It would be great to finish off what has been my best year to date with a victory there."