Open 2014: Justin Rose hoping to add more majors to his collection

By Tom English
BBC Scotland
Last updated on .From the section Golf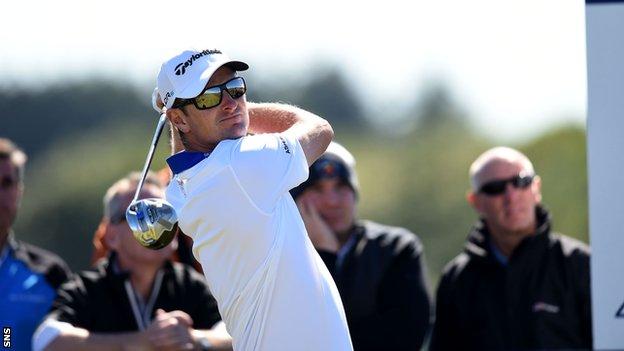 The Open Championship 2014
Venue:
Royal Liverpool Golf Club
Date:
17-20 July
Coverage:
Live on BBC TV, BBC Radio 5 live, BBC Sport website, mobile & app, and Connected TVs
For a man who proved as a boy that he had the game to win an Open Championship, Justin Rose has been a strange irrelevance for too long.
At Royal Birkdale 16 years ago, Rose finished fourth as an amateur. Lately it has been a different story: two missed cuts in the Open in the past two years; nine consecutive rounds without breaking par; a combined total of 51-over in the six attempts since he was last under par for the tournament.
Given the class of the player involved, the numbers are stark and not a little shocking.
Scottish Open winner Rose smiles when you present the numbers without the nuances. The nuances are important, he says.
"I haven't looked at my record in the Open, but this is what I think. Birkdale in 1998 was what it was. You almost have to take that out because it was just a fairytale week.
"I was 17 and there was a moment after the 12th hole on Sunday when I thought I was going to win. I didn't, of course, but if anything it proved I can do it. I played a lot of my amateur career on links courses and did well. There's no issue.
"In 2009 at Turnberry I felt I should have won, or could have won. The record book won't show that. It'll show, well, I don't know what it will show [a tie for 13th], but I was right there. I played so well. I was just awful on the greens on the back nine.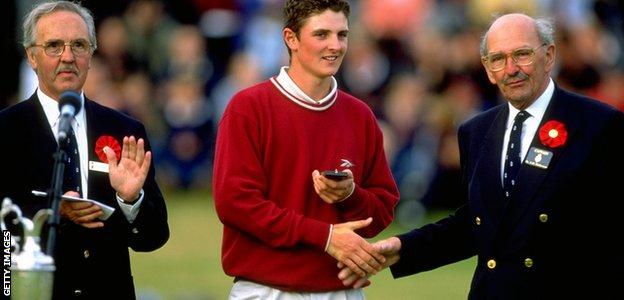 "At Muirfield in 2002 I was in the second last group on Sunday and that was a weirdly condensed leaderboard. I had half a chance.
"So there's been a little bit more to think positively about than it looks in black and white. I feel like I've been on the wrong side of the draw two or three times in the last five or six years. The draw can be massive.
"The point I'm making is I do enjoy this style of golf. I haven't been disheartened by it. I'm playing the Scottish Open to reverse that record."
And he's playing it magnificently. Rose's odds on adding a second major to the US Open he won last year when he lines up at Royal Liverpool on Thursday are shortening all the time.
Not that betting on Open Championships is to be advised in an era when the list of potential winners has never been longer. Gone are the days of one man's dominance.
Rose will take heart, however, from his first Scottish Open win at Royal Aberdeen on Sunday.
"Even though the standard of golf across the board has improved hugely, it's no harder to win majors than it was before because Tiger [Woods] was so hard to beat before," Rose added.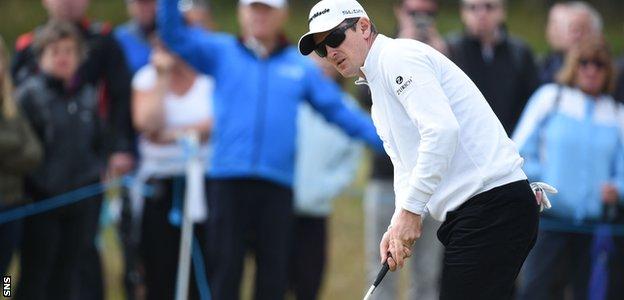 "There's no doubt, when he was at his best he was unbeatable. When you win a major championship by 15 shots and eight shots and multiple shots multiple times then that's true domination.
"He's still probably capable of that - right golf course, right week, if he swings it well and the putts drop.
"His experience gives him the edge and it's in major championships where he has his greatest advantage. He's there or thereabouts even when he's not playing well. He'll be close, depending on his health."
Life has changed for Rose since he became a major winner himself.
"When you're a kid you dream about winning a major. When I was a young pro I still dreamt about it but I wasn't good enough. And when I was good enough, for too long I didn't believe it, so I was still dreaming about it. But there comes a time when you have to walk the walk. These are my chances now. The next five years are my chances.
"I'd like to see it as a gift that I have a major championship and that at the end of my career, worst-case scenario, I'll know that I was good enough to do it.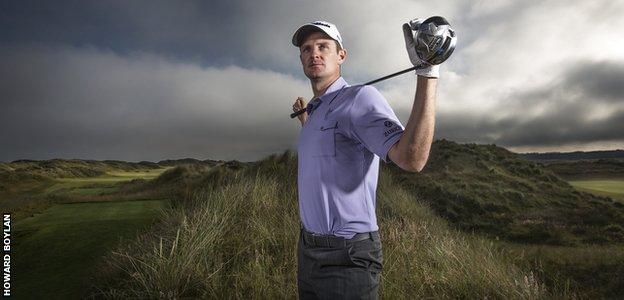 "I try to use it to free me up a bit, but it's easier said than done. You know what you're capable of so accepting mediocrity when you're not playing well is a very difficult thing to do.
"That mental side is still an area where I can improve. I don't think my golf swing is going to get 10% better over the next five years. I don't think anything is going to get 10% better over the next five years apart, maybe, from the mental side. That can get 10% better."
This year's Open venue at Hoylake is, he says, a course without tricks. It's a straightforward track and he feels all the better about facing it after what he has done at Royal Aberdeen.
He missed the Open there in 2006. He wasn't good enough at the time. But times change. For Rose, in the last year, everything has changed.