The Open 2014: Tiger Woods, Van de Velde & other great moments
Last updated on .From the section Golf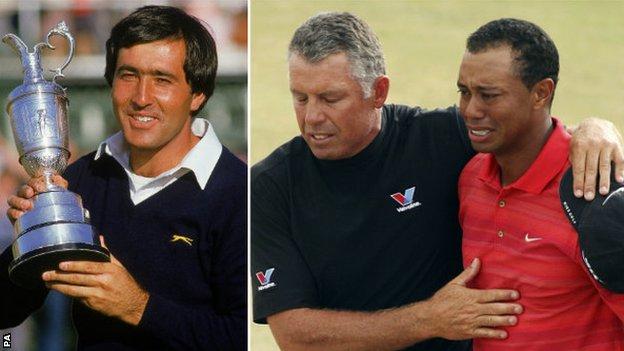 The Open Championship 2014
Venue:Royal Liverpool Golf ClubDate:17-20 July
Coverage:Live on BBC TV, BBC Radio 5 live, BBC Sport website, mobile & app, and Connected TVs
Triumphs, tribulations and tears. Fightbacks, fist-pumps and farces. The Open Championship has witnessed the full range of sporting drama and emotions in its 142 previous instalments.
Played on nine different courses on rotation since 1951, each boasts hazards capable of giving the world's best nightmares. But conquering the challenge of links golf can equally make long-held dreams a reality.
As Hoylake's Royal Liverpool prepares to host the event for the 12th time in its history, BBC Sport recalls 10 of the tournament's most memorable moments.
Tiger's tears for dad - 2006
There were tears on the green the last time Royal Liverpool staged the Open as Tiger Woods secured his third Claret Jug in his first major since the passing of his father.
Earl Woods died of a heart attack 12 weeks before the event, where his son paid a fitting tribute to the man who coached him in his early years.
"After the putt, all these emotions just poured out of me," said Woods, 30 at the time. "They have been locked in there.
"I just miss my dad so much. I wish he could have been here to witness this. He enjoyed watching me grind out major wins and this would have brought a smile to his face."
Woods won at St Andrews 12 months earlier and became the first back-to-back winner of the Open in 23 years with a dominant victory on Merseyside.
After hitting the outright lead by the end of round two, the American superstar never looked back and won the 11th of his 14 majors by two strokes from Chris Di Marco.
Daly wins after Rocca's miracle putt - 1995
Costantino Rocca had just sunk a putt from 65 feet - moments after duffing his approach chip into the 'Valley of Sin' on the 18th at St Andrews - to force a play-off with John Daly.
"The galleries are spellbound by what they've just seen, the players shocked at what has just happened," was how BBC Sport presenter Steve Rider called it at the time.
It was one of the most remarkable putts in Open history and the Italian, emotional, lay face down on the ground punching the floor, while a stunned Daly made his way back out onto the course.
"It shook me a lot," admitted the larger-than-life Daly, a perennial crowd favourite. "I mean I was still shaking from being in the lead, but I held it together."
"The emotion is unbelievable," said Rocca afterwards. "After the second shot at 18 - it blows my head. Then I hole the putt to give me another chance. No-one is supposed to hole that putt."
Drained from his effort, Rocca capitulated in the four-hole play-off and Daly won by four shots - claiming the last of his two major titles.
Watson's wondrous fight for the ages - 2009
An eight-time major winner leading a tournament is maybe no surprise, but when that golfer is 59, the story takes on an altogether different slant.
American legend Tom Watson led from day two at Turnberry in 2009 and looked set to win a record-equalling sixth Open (26 years after his fifth) at the site of his victory in 1977.
He would have become the oldest major winner in history, but needing par on 18, an approach shot through the back of the green led to a putt from eight feet for the title.
"When the ball was in the air on 18, I immediately flashed to the same feeling I had at Turnberry in 77," said Watson. "It hit the green and was the perfect shot, but links golf said 'well, not today Tom.'"
Watson missed the putt, compatriot Stewart Cink - 23 years his junior - took the play-off by six shots and Watson - who had received vociferous support from the galleries - was beaten.
Oldest winner of a golf major
Julius Boros was 48 years, four months and 18 days when he won the US PGA Championship in 1968
"Michael, my son, was morose," Watson said. "He's 26 and I called him the Monday after, and he cried. I let the conversation end. Ten minutes later, I called him again and went over with him what it really meant. It's only a game. I've cried before, but not then."
Teenage amateur Rose in early bloom - 1998
Fresh faced, arms outstretched and a look to the heavens. Justin Rose looked like he was floating on air when he holed out from the rough to finish tied-fourth in the 1998 Open at Royal Birkdale.
"I think a 17-year-old amateur can only do that by going purely on natural talent and emotion," he has said since. "I rode the crest of a wave, had a nothing-to-lose attitude."
It was the climax to four days which changed his life. Turning professional the next day, expectations changed but a run of 21 consecutive missed cuts on arrival in the pro game damaged confidence.
A few years after his Open heroics - where he finished two shots behind eventual winner Mark O'Meara - Rose re-visited Birkdale. But emotions dictated he did not even leave the car park.
"So much bad stuff had happened afterwards, I didn't want to go in," he said. "I just kind of wanted to skulk away quietly and not make a nuisance of myself or embarrass anyone."
His form returned and after lifting his first major at the US Open in 2013, Rose will start as one of the favourites at Hoylake having won his last two tournaments in the US and Scotland.
Van de Velde's French farce - 1999
Watching it again elicits a mix of emotions - pain, sadness, mirth and admiration at the sheer lunacy of it.
Jean Van de Velde stood on the 18th tee at Carnoustie knowing a double-bogey six would see him become the first Frenchman to win the Open in 92 years.
Three shots later, he stood bare foot in the Barry Burn guarding the 18th green, prompting veteran BBC commentator Peter Alliss to say: "Would somebody please stop him. Give him a large brandy and mop him down."
Van de Velde, who eventually opted against playing out of the shin-deep water and took a drop instead, only to put his fifth shot into a greenside bunker, ultimately carded a seven to drop into a three-way play-off won by Paul Lawrie. The Scotsman later said his rival "had the tournament in his pocket".
"I said when it happened, it is going to last a good 15 to 20 years before people stop asking me questions," Van de Velde said of his final-hole travails. Reports say he cried uncontrollably in the locker room afterwards.
Lawrie's fightback from 10 shots behind is the biggest final-day turnaround in Open history, but Van de Velde ensured this was one occasion where everyone remembered who came second.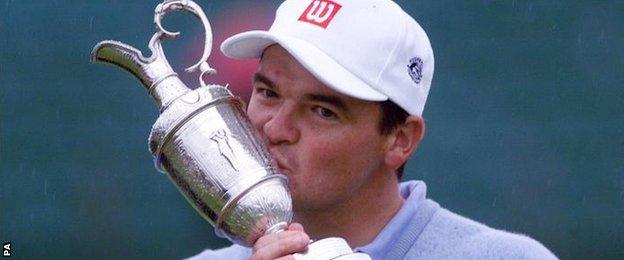 Seve, the car park champion - 1979
The late Seve Ballesteros boasted legendary powers of ingenuity, never better illustrated than in winning the first of his major titles at Royal Lytham and St Annes in 1979.
The Spaniard tightened his grip on a three-shot victory with a birdie on 16 in his final round, but only after sending his tee shot into a course car park.
A lofted wedge from the vehicle-strewn area would have left many praying for par, but Ballesteros, then 22, nailed a 25-feet putt for birdie and was christened 'the car park champion.'
"The winner, Severiano Ballesteros, chose not to use the course, but preferred his own, which mainly consisted of hay fields, car parks, grandstands, dropping zones and even ladies' clothing," quipped Colin Maclaine, chairman of the Championship committee.
Five years later, with a dance, a jog and a fist-pump on the 18th green of St Andrews' Old Course, the Spanish hero was at it again, this time sinking a swinging putt for birdie to clinch the second of his three Open titles.
"This was the happiest moment of my whole sporting life," wrote Ballesteros in his autobiography. "My moment of glory, my most fantastic shot. I had my deepest emotional experience in my golfing life when I played in the 1984 Open at the cradle of golf."
'Lefty' develops a love for links - 2013
Phil Mickelson had doubted he could ever win the Open, despite boasting four major titles before his stunning victory at Muirfield.
The popular American known as 'Lefty' was not sure his flamboyant style of play - so at home at Augusta National where he has three Masters victories - could excel on the complexities of a links course in the UK.
A record of two top-10 finishes in 19 attempts only fuelled those doubts, but they were extinguished with 66 blows of a stunning final round as he rallied from five shots off the pace to win by three in East Lothian.
"This is a win that I never knew if I would be equipped for, if I would have the shots or the opportunity to win a tournament here," said Mickelson, 44. "To do it is probably the most fulfilling moment of my career.
"It validates to me that I have become that complete player and accomplished the goal of learning a form of golf that was completely different from the one that I grew up playing."
Par-fect Faldo masters Muirfield - 1987
Nick Faldo won the first of his six majors with victory at Muirfield in 1987.
In a tournament doused in rain and battered by wind, 18 pars in his final round gave him a one-shot triumph over American Paul Azinger, who ended bogey-bogey to blow his chance of a first major.
"If anyone thought making 18 pars at Muirfield was easy, well, good luck to them to do it," said Faldo afterwards.
England's first winner of the Claret Jug in 18 years, Faldo sandwiched another Open success at St Andrews in 1990 between a second win at Muirfield in 1992.
It was an era of dominance which saw the 2008 Ryder Cup captain win six major tournaments in nine years, but Faldo's first success banished previous failures.
"One of my motivating things was that I turned 30 on Saturday at that Open. I thought, you've reached 30, you've got to start winning these majors. Another goal I had was that I wanted to be a millionaire before I was 30. That Open took care of that."
The under-par men
Jack Nicklaus, Nick Faldo and Ernie Els hold the record for the most under-par Open finishes, having done it in 14 tournaments each.
Scott implodes as 'Big Easy' steals booty - 2012
Adam Scott stood on the 15th tee in his final round of the 2012 Open at Royal Lytham and St Annes four shots clear of the field.
A dramatic climax seemed unlikely, but the Australian's dream of landing a first major ended in a series of pulled putts, heavy iron shots and drives into bunkers, catastrophe over the final 1600 yards of a week in which he had not finished any day outside the top two.
Four bogeys on the closing four holes left the door ajar for Ernie Els, who enjoyed a bogey-free back nine playing two groups ahead of Scott to post a seven-under-par clubhouse score which proved enough to secure a second Claret Jug, 10 years after his first.
"Scotty, you're a great friend of mine and you're going to win many of these, you have too much talent," said a gracious Els whose birdie on 18 ultimately won him a fourth major.
"I know I've let a really great chance slip through my fingers today, but somehow I'll look back and take the positives from it," said Scott who, true to his word, responded by winning the 2013 Masters and rising to his current ranking of number one in the world.
No prize for consistency
Ernie Els carded four sub-70 rounds in both 1993 and 2004 but did not lift the Claret Jug. The only only other man to shoot under par throughout an Open and not win is Jesper Parnevik in 1994 at Turnberry
Sanders fluffs it from three feet - 1970
A three-foot putt for the Open. Your one and only shot at a major win in a whole career.
It was that simple for American Doug Sanders in 1970. But taking that final step to glory, and closing the deal, is anything but simple.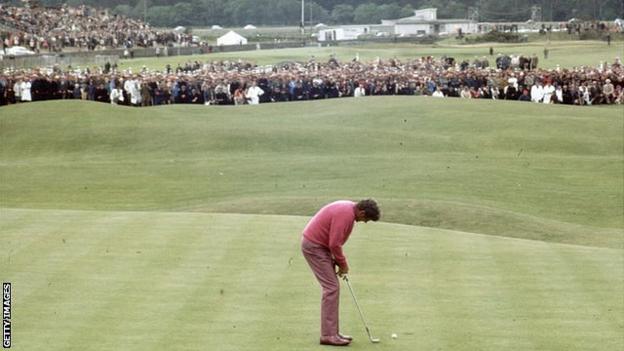 His miss on the 18th at St Andrews has become part of golfing legend and allowed Jack Nicklaus to win the eighth of his 18 majors after an 18-hole play-off the next day.
The margin of victory in the play-off? A solitary stroke.
Sanders, known for his dashing choice of golf attire, was 36 at the time and never got close to winning a major again.
"If I had made that putt, all the endorsements, the clothing lines, the golf-course designs…" Sanders lamented. "It's like buying a lottery ticket worth $200m and then dropping it in the can and watching the numbers wash away."