WGC Match Play: Golf must make 'different' event work

By Iain Carter
BBC golf correspondent
Last updated on .From the section Golf93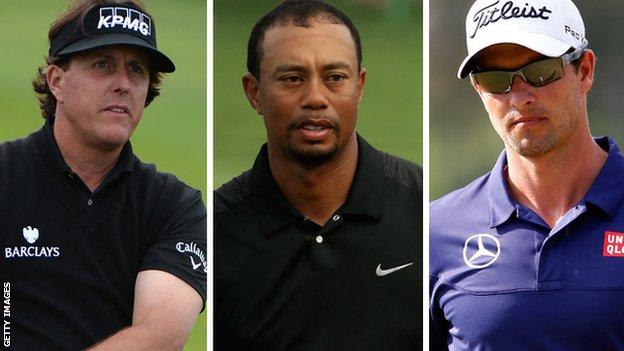 Away from the majors and Ryder Cup, which is the most exciting day on the golfing calendar?
Wednesday of this week would win many a vote. First-round day at the Accenture WGC Match Play is as compelling as it gets.
There are 32 matches involving the 64 best players in the world. Results, shocks and surprises come at an exhilarating and relentless rate. At least that's how it should be, and often has been in recent years.
Yet this week feels rather second best with the absence of the world number one, as well as the reigning champions at the Open and Masters.
Tiger Woods, Phil Mickelson and Adam Scott have not made the journey to Dove Mountain near Tucson, Arizona. They won't be part of one of golf's potential showcase weeks.
For them the location, course, date and format simply don't fit, even when it's a $9m (£5.4m) tournament that offers a $1.5m (£896,000) jackpot for winning half-a-dozen 18-hole matches.
So three of the most charismatic figures in the game are replaced by Richard Sterne of South Africa, American Scott Piercy and Thailand's Kiradech Aphibarnrat.
It's a sad indictment of the professional game that no-one has found a way to make the Match Play work. Aside from missing three of the world's top four this week, the event lacks a venue or sponsor going forward.
Woods, Mickelson and Scott have decent reasons for skipping the tournament. The forthcoming Florida swing provides excellent Masters preparation, and they want to remain fresh.
Dove Mountain is spectacular, but prone to bad weather. Last year it was hit by blizzards. It is remote and galleries are small; the atmosphere is patchy at best.
And half the field are packing their bags after only one day of competition - unless, of course, snow delays proceedings like 12 months ago.
This should be one of the great weeks of the season. Fans love to watch head-to-head golf while sponsors and TV want the biggest names to turn up and be around as long as possible.
Nothing seems to have been done to address these imperatives. There's no imagination over how to make the event work besides annoyingly splitting the draw into four brackets.
Overcomplicating the terminology by trying to make us refer to four top seeds is needless, but a relatively minor irritation.
More significantly, why can't the powers that be think laterally to make it a more attractive week?
How about 36 holes of strokeplay to determine the top 16, who then go head to head? Or run it simultaneously with a women's event, with TV showing both tournaments?
Why not turn all the WGCs into matchplay events and create a series where points are awarded for progress? Then plate competitions for first-round losers could be run to allow them to add to their points tally rather than go home.
Television executives hate the final day, when they have just the championship match and a tepid third/fourth play-off to fill our screens, and this sort of thinking would help solve that problem and enhance the event.
These, though, are ideas unlikely to ever be adopted by the ultra-conservative world of professional golf.
As long as another sponsor is found, the tournament will simply muddle along. And if no-one comes up with the money, it will simply perish. We will get another week of 72-hole strokeplay instead.
It should be remembered the Match Play offers something different. It is time to think out of the box to not only keep, but enhance, this event's place in a crowded calendar.