Rory McIlroy: Montgomerie & Harrington expect 2014 revival

By Iain Carter
BBC golf correspondent
Last updated on .From the section Golf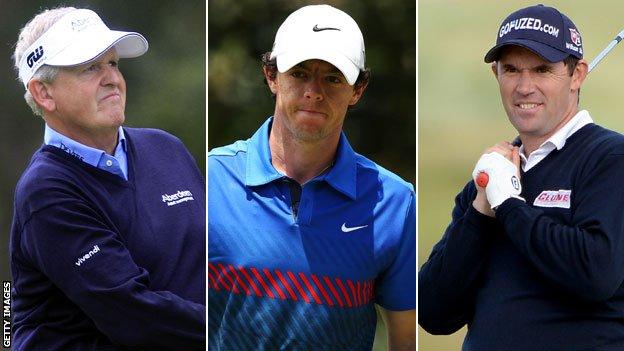 Colin Montgomerie and Padraig Harrington predict a return to winning ways for Rory McIlroy in 2014.
Montgomerie and Harrington, who boast nearly 70 professional wins between them, discuss McIlroy's prospects in an interview to be broadcast on BBC Radio 5 live on Thursday.
They say they expect the 24-year-old to continue his assault on golf's record books, despite his difficult 2013.
Montgomerie, winner of a record eight European Tour Order of Merit titles, maintains the Northern Irishman is too good not to start winning again on a regular basis.
"He's the most talented player to emerge since Seve Ballesteros," said Montgomerie. "Seve fell out of his pram playing golf and Rory did the same thing. That's not going to go away."
McIlroy failed to win in 2013 until his penultimate event, the Australian Open in December, but Montgomerie does not foresee similar struggles in 2014.
"I think it was a blip year," said the Scot. "A lot was happening and I think Rory will get back to winning ways."
Three-time major winner Harrington also anticipates a rapid revival.
"I've said it is possible Rory could compete with Jack's record," said the 2007 and 2008 Open champion. "Time is on his side. He started winning majors at 22, so that gives him a good bit of time.
"Rory has won two in the last three years. That's a good stat. If he wins more in the next three years, then that really becomes some stat."
As for Woods, Montgomerie believes this is a crucial year if the 14-time major champion is to overhaul Nicklaus's record. The Scot points out that the world number one, who has not won a major since 2008, has previously won at three of this year's major venues.
Woods won the 2006 Open at Hoylake, the 2000 US PGA at Valhalla and has won four Masters green jackets at Augusta.
"He also came a close runner-up the last time the US Open was staged at Pinehurst," Montgomerie said.
"I thought last year was important for Tiger Woods to win a major. He's running out of time, there's no doubt."
Irishman Harrington is more optimistic about Woods's prospects.
"No-one has got into contention more consistently than Tiger Woods has in recent years at major tournaments," he said.
"I do agree that the less he wins, then the harder it gets. He is starting again. It's like he's never won one.
"I just believe, though, that if he gets one then the others will come reasonably soon after and he will get there."
But Montgomerie says Woods needs to adjust his strategy if he is to dominate in the modern game.
"The trouble with Tiger is that he just has not been aggressive enough over the weekends," said Montgomerie.
"He has played safe golf, he hasn't attacked. The safe game now has gone. This is a very aggressive game we play now.
"When he first came on the scene, he was 30, 40 yards past everyone. Now he's 30 yards behind. That's a big difference and therefore he cannot win majors playing safe anymore."
In the interview, recorded at last week's Volvo Golf Champions in Durban, the two European Ryder Cup stars also discuss their own careers.
Harrington admits to losing "some of the buzz", while Montgomerie says he has been revitalised by turning 50 and joining the Seniors' tour.
They also discuss the Ryder Cup. Harrington says the time has come to end the right of home captains to have a say in course set-up.