Symetra Tour: Jordan-Higgins eyes top spot in 2014
By Tim Pryor
BBC Radio Jersey
Last updated on .From the section Golf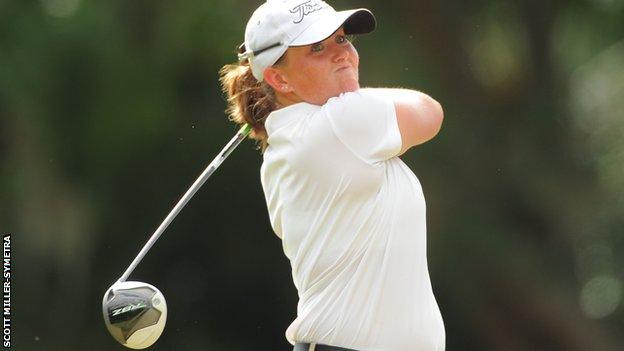 Jersey's Olivia Jordan-Higgins believes she now has the quality to finish top of the Symetra Tour money list next season.
She is set for her fourth year on the circuit, which provides a pathway to the full LPGA Tour for the top 10.
just $114 away from gaining her LPGA card.
"It was hard to take but nothing I can't bounce back from," the 25-year-old told BBC Radio Jersey.
"I'm going to go back to the Symetra Tour and hopefully finish in the top 10.
"I'd like to finish number one, there's no question that I can do it and I have the motivation now to do it."
Jordan-Higgins has improved on her final position on the money list every year, but for the past two seasons has left the last tournament of the campaign disappointed.
She missed the last two cuts of 2013, dropping from sixth spot to 11th, and a year earlier when lying in 14th place on the money list.
She has singled out an improvement in her mental preparation as a target for the year ahead.
"I've noticed that more and more that's what it's coming down to," she said.
"It's just being able to handle the pressure that you're put under in situations that you're not prepared for.
"You practice your routine so that's all you focus on, you don't even know where you are. Any putt, whether it's on the practice green or to win $10,000, there's no difference and you shouldn't feel that pressure."