Bernard Gallacher returns to golf three months after cardiac arrest

By Iain Carter
BBC golf correspondent
Last updated on .From the section Golf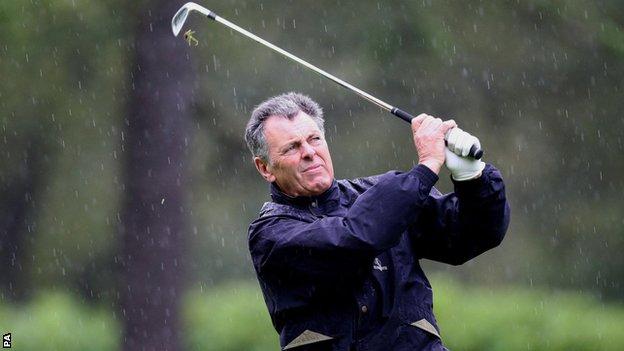 Former Ryder Cup captain Bernard Gallacher has returned to the golf course for the first time since having a life-threatening cardiac arrest.
The Scot has started a campaign to encourage all golf clubs to be equipped with automated external defibrillators.
Gallacher believes the device, costing around £1,000, saved his life.
Speaking at the project's Wentworth launch, the three-time European skipper told BBC Sport: "I've played at Wentworth and I've been practicing hitting a few balls on the range.
"To be honest I think I have overdone it on a couple of occasions. I have to stay in the care of the doctors and do exactly what they say.
"When we talk about what happened to me, the same thing happened to Fabrice Muamba in football."
Muamba, 23, suddenly collapsed while playing for Bolton Wanderers against Tottenham Hotspur in the FA Cup last year.
"There was a perfectly fit young man, a footballer obviously monitored by his training team," said Gallacher.
"Everything seemed in order and then he just collapsed in the middle of a game.
"He was lucky like me because there was a doctor around and they had a defibrillator at the football club."
The Scot, who is a regular summariser for BBC Radio 5 live, is convinced lives will be saved if golf clubs back his appeal.
Gallacher, who is working with his wife Lesley to promote the campaign, has received backing from the PGA and European Tour.
Currently only 30% of golf clubs in the UK and Ireland have defibrillators.
"Without early intervention, an individual has just a 5% chance of surviving a sudden cardiac arrest," he said.
"Lesley and I felt it appropriate to try to ensure others are equally as fortunate as I was should they collapse in or around a golfing venue in future."