Tiger Woods: The year that got away from the world number one?

By Iain Carter
BBC golf correspondent
Last updated on .From the section Golf115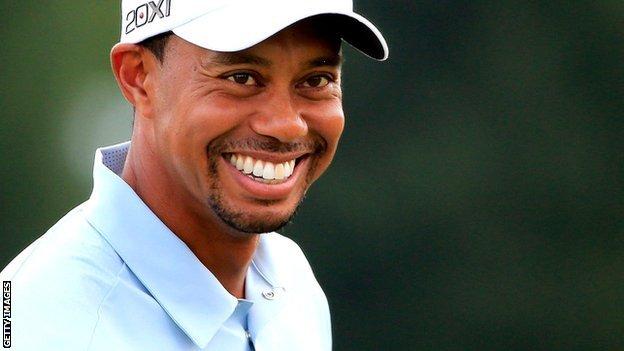 Tiger Woods called it a "pretty damned good year" and, with that, packed away his clubs for 2013.
It was a good year for the world number one. Five victories helped reinstate him at the top of the rankings. Nobody won more tournaments or gained more ranking points over the past 12 months than the 14-time major champion.
Yet he could be excused an unfulfilled feeling. It was a curious year packed with incident both on and off the course and, most significantly, another in which he failed to add to his tally of major titles.
The denouement of Woods's final event almost summed it up. Another promising position slipped from his grasp in a manner that few could have predicted.
He seemed to be cruising to victory in the World Challenge at Thousand Oaks in southern California after a stunning 62 in the second round. Woods owns this tournament in every respect (he is the host and has won it five times) and was four strokes clear of Zach Johnson with eight holes to go.
Heading into the back nine on Sunday, the Golf Channel's Tiger Tracker twitter feed proclaimed: "Tiger has a 99.999% chance to win."
In the past there would have been no argument. Predicting what happens with the soon to be 38-year-old Woods now, though, is a more perilous occupation.
At the last, Johnson recovered from shanking his approach into the water, holing a 58-yard wedge shot to take it to sudden death. The 2007 Masters champion then won the play-off as Woods failed to save par from a greenside bunker.
It was a scenario impossible to imagine, especially with such a prolific winner coming out of it on the wrong side. The message is clear: we can't take Woods wins for granted in the way we did in the past.
Remember how the Masters slipped from his grasp this year? He was heading to the top of the leaderboard on the second day when a brilliant approach to the 15th hole proved just too accurate.
Crashing back off the flag, his ball ended up in the water, leading to a fateful and erroneous drop. What looked like being a routine birdie became a triple bogey eight after a two-shot penalty, and his challenge at Augusta proved to be over.
The row over whether he should have been disqualified because he signed his card before the two-stroke penalty was added was also one of four rules controversies that punctuated his year.
At the Open, he moved himself nicely into position, sharing second place two strokes behind England's Lee Westwood going into the final round.
That closing Sunday at Muirfield he was wracked with tension en route to a closing 74. It was one of the countless poor weekend performances at majors witnessed from Woods since he last won one at Torrey Pines in 2008.
Yet this is a man who has patently not lost the art of winning. As he says: "Pretty damn good year. Five wins, and you know, on some pretty good venues, so very pleased with the year."
Two of his victories came at World Golf Championships and another at the Players Championship. All five were achieved on courses where he has won before.
The Players win was his best for some time. The Sawgrass course had been completely renovated and the tournament shifted from March to May since he last won it in 2001.
This wasn't the archetypal Tiger triumph at one of his favourite haunts like a Torrey Pines, Bay Hill, Doral or Firestone. This was achieved on a layout that has rarely suited his game.
It was also, though, controversial. Many questioned the legitimacy of where he chose to drop after driving into the water at the 14th hole during the final round.
This followed the Augusta rumpus and a wrong drop at the start of the year in Abu Dhabi. Then, in late summer, he was penalised two strokes after TV footage showed he had moved his ball in removing a twig during the BMW Championship in Illinois.
The cumulative effect prompted Golf Channel pundit Brandel Chamblee to call him "cavalier" with the rules. This has been the first year in which Woods's integrity as a golfer has been called into question.
But it is worth noting what 2006 US Open winner Geoff Ogilvy said in a superbly observed Golf World column last week.
"While I'm not sure exactly how many times I've been paired with Tiger Woods, it has been often enough to convince me of his basic integrity as a golfer," Ogilvy said.
"Yes, Tiger is ultra-competitive. Yes, he can be accused of playing with 'blinders' on during tournaments. But I have never - not once - seen him attempt to gain any unfair or dubious advantage."
Ogilvy went on to champion Chamblee's right to state his opinion before suggesting that Woods should try to be more open with the media.
"Much of what went on between Tiger and Brandel could have been avoided if Tiger would give open answers to questions - 'real' interviews, not just 'nothing' interviews," Ogilvy insisted.
The articulate Australian is absolutely right, but there is no way Woods will change a policy aimed at shutting down any agenda that does not meet his approval.
That's why, according to Woods, this year goes down as "pretty damned good" rather than one that got away.