Scotland's Alastair Forsyth loving his return to European Tour
By Kenny Crawford
BBC Sport Scotland
Last updated on .From the section Golf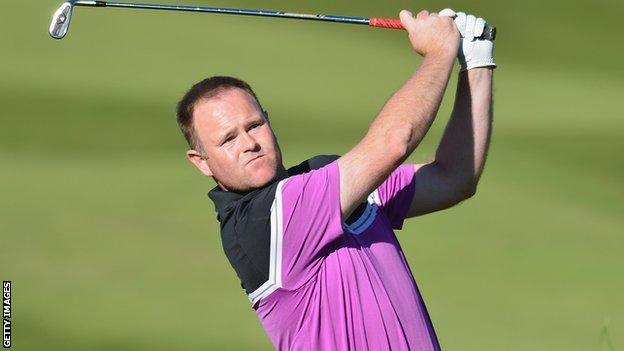 "I knew it was in there somewhere."
Fresh from a house move, that's a sentence the now Ralston-based Alastair Forsyth will have uttered several times over recent weeks.
But on this occasion he was not talking about locating some elusive piece of crockery buried in the depths of a packed cardboard box.
Rather, the 37-year-old was referring to searching for his best form on the golf course.
"I just felt as if I needed to get to the bottom of things technically," Forsyth told BBC Scotland.
"I feel as if I've got to the bottom of the technical problems I had and I'm hoping that will make a big difference to my consistency."
Finding the answers to those glitches in his game came at a crucial time.
Having been part of the furniture on the European Tour proper for over 10 years, Forsyth was dislodged at the end of 2010.
Two unsuccessful attempts at regaining entry at qualifying school followed before it became third time lucky at Spain's PGA Catalunya resort in November.
"I was never completely off the Tour but still there or thereabouts," explained Forsyth. "I always had a category where I played 17 tournaments.
"But if I hadn't got through the school this year, then I hadn't had a good enough season that I would've had that kind of back-up.
"I would've been moving on to the Challenge Tour."
Forsyth ended the six-round ordeal in Spain, during which he was still recovering from a torn calf muscle, by gaining one of the last 27 cards available.
He came within a single stroke of not qualifying.
"It's certainly a level of pressure that I've never felt before," said Forsyth. "It was just a relief in the end to get over the line.
"It's a much longer week than any other one and the fact that your whole season's on the line, not just one tournament, adds so much more pressure to the golf.
"In the last round on the back nine I was right on the bubble of getting a card or not."
But would the Scot have been tempted to call it a day if things had not gone his way?
"It certainly never crossed my mind to chuck it," Forsyth stressed.
"Golf's all I've ever known, I've been a professional for 15 years now. It's what I've always done.
"I knew what's required and what kind of level of golf is needed. I felt I was still showing that in phases and I know how well I can play."
His confidence comes from two past European Tour wins; at the Malaysian Open in 2002 and at the Madeira Islands Open in 2008.
However, Forsyth's chief aim for the 2014 season is less lofty and more clear-cut.
"When you get a card at the school, there's one simple goal and that's to keep it for the following year," said the current world number 804.
"Anything above that would be a bonus. Anything inside the top 110 in the order of merit for next year would be great.
"If I can get off to a reasonable start, they re-rank the 27 of us that qualified at the school.
"So if I can get a reasonable few results it might help me into a few more tournaments for the second half of the season.
"I've got a better card than I've had over the last couple of years, so I've got a much better opportunity to get my full card back.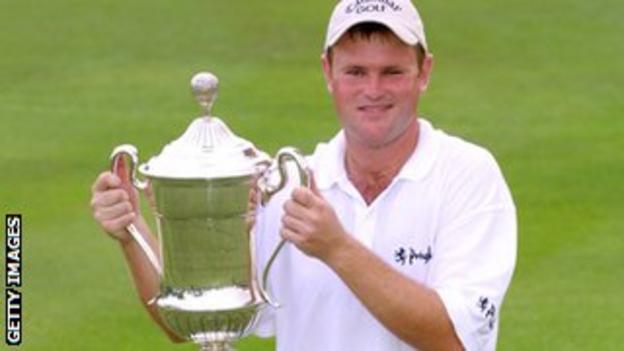 "I'm totally buzzing with the whole thing just now. Especially the fact that I feel as if I'm playing a bit better again, it gives me a wee bit more energy and enjoyment about it.
"I look forward to getting out there rather than being a bit concerned about how I'm playing."
Such a schedule has him flying to various corners of the world, residing in departure lounges just as often as his own new living room.
Less than one month into the new season, his itinerary has been South Africa - Scotland - Hong Kong - South Africa.
"It's all part and parcel," said Forsyth. "You just have to accept that you're going to be travelling all over the place, chalking up all sorts of air miles.
"I have to play in every tournament I get into, whether that's in Asia, South Africa, Europe, wherever.
"People talk about it being difficult being away from my wife and I've got a wee girl who's four-and-a-half, starting school next year. So you do miss out on certain things.
"But I always say to people that if I play 20 to 25 tournaments in a season, the rest of the year you're at home.
"Fortunately, they're quite understanding. The phone can go and they know that at the drop of a hat I've just got to head to the airport."
Handily, that airport is just three miles from his new house.